Container Events Not to be Missed in 2017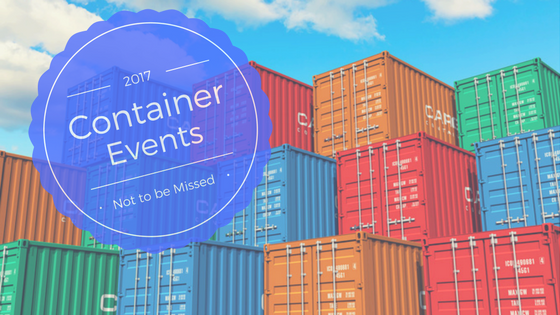 By Rani Osnat

Last year I said the technology sector was notorious for hosting too many conferences. This holds true this year as well. The challenge is finding the right ones where container proponents and enthusiasts gather.
Because the container space is still in its infancy, there aren't that many events that focus solely on containers, but containers will gradually grab a decent piece of more general events around cloud and virtualization - such as VMWorld, Cloud Expo and even Microsoft Ignite.
So with that in mind, here is a list container events that you don't want to miss in this year:
When: February 21-23, 2017
Where: Santa Clara Convention Center, Santa Clara, California, USA
Container World provides an enhanced learning experience and peer-to-peer networking. This two-day event will start with a container training, in-depth analysis of building and scaling containers, and end with user case studies for IT decision makers. There will also be some interesting keynotes from industry leaders like Subbu Allamaraju, Ian Downes, and Chris Aniszczyk (and that's just the tip of the iceberg).
Container World has been dubbed as the only independent conference and exhibition that brings together the whole cloud and container ecosystem. This means it will also be an excellent space for potential customers to be paired with appropriate technology vendors.
When: March 15-16, 2017
Where: London, UK
DevOps Live and Docker are teaming up to present conference goers with the latest innovations in the fields of DevOps and Containers and Aqua Security will definately be there.
Participants will have the opportunity to hear and engage industry leaders and learn how this technology has moved from the sidelines to a mainstream strategy worldwide.
Discover the latest tools, strategies and defences to protect your infrastructure, networks, platforms, devices and applications. The expo is sponsored by Avast, Darktrace, Sensornet, and Aqua Security among others. Theatres and topics also include: cloud security, compliance and governance, Security of Things, cloud security service providers.
Speakers include Google's Geng Lin, NHS Choices' Paul Houghton, Christy Ross of FT, Spotify's Sebastiano Armeli, Margo Cronin of CH FinServ / Credit Suisse and more.
When: April 17-20, 2017
Where: Austin Convention Center, Austin, Texas, USA
DockerCon 2017 is a three-day event organized by Docker that will cover content and topics that are related to the container industry. It's a unique opportunity to network and learn from attendees that share similar challenges. Everyone can benefit from individual experiences and technical solutions.
I fully expect this to be THE event for the container ecosystem, and judging from last year's event it is sure to be chock full of very enthusiastic developers, devops, and architects.
The event will include paid training, workshops, and hands-on labs. This conference is best suited for Developers, DevOps, Ops, System Administrators, and C-level executives.
When: June 6-8, 2017
Where: Javits Center, New York City, NY, USA
When it comes to containers and cloud computing, it's imperative for Dev. teams to engage in enhanced communication and collaboration in a dynamic environment. This makes DevOps at Cloud Expo an important event as it will be focused on working together on containers and microservices.
This event will highlight recent research, problem solving by IT professionals, and general support. Attendees can expect to learn about DevOps from an economic, business, and technological standpoint and hear from industry experts about how operations teams can work together seamlessly.
There will also be keynotes presented by Andrew Keys, Co-Founder of ConsenSys Enterprise, and much more.
Other topics to be featured at the event:
Improving delivery and agility of IT services

Core principles of DevOps

Core values of collaboration, integration, and communication

What works and what doesn't
When: September 25-29, 2017
Where: Orlando, FL, USA
It easy to dismiss Microsoft Ignite, traditionally nothing to do with containers. But after last year's announcement of containers on Windows Server 2016, this year you can expect a lot more focus on containers and Azure. With more than 700 sessions and hands-on digital labs, 300 exhibitors and deep diving demos, you will get access to industry trends and insights. Sponsors include Accenture, Avanade, Dell/EMC, HP enterprise and Salesforce.
Container sessions will focus on a wide range of issues, including; Windows server, Hyper-V, Accelerated application delivery, Azure container services and so much more!
When: September 28-29, 2017
Where: CodeNode, London, UK
ContainerSched 2017 will highlight interest in both schedulers and containers while exploring the core technologies and associated areas like security, networking, and storage.
This two day event will be loaded with talks, discussions, and workshops. Further, ContainerSched has been organized to explore the following new technologies:
AWS ECS

Borg/Omega inspired work

Cloud Foundry (Warden)

Docker

Kubernetes

L3 networking (Project Calico)

Mesos (and frameworks)

Overlay networks (Weave, Flannel)

OpenShift/fabric8

OpenStack (Magnum)

rkt

Storage (Flocker et al)
At ContainerSched, consultant, coach, and trainer, Russ Miles will share his extensive experience related removing unnecessary and costly complex processes like applying for the right process job, developer skills, and making sure that the right change has been delivered.
The event will be held in the heart of London, so you can bet that you will be surrounded by plenty of entertainment options.
When: October 16-18,2017
Where: Bella Center, Copenhagen, Denmark
DockerCon will return to Europe in October with a conference, paid training, and workshops in Copenhagen. This event will provide a great opportunity to reconnect with the Docker community based in Europe.
You can expect it to be a special event where everyone can engage in networking, collaborating, and learning. What's even better is that DockerCon will be held in the remodeled Bella Center, one of the most sustainable venues in the world.
More details about the speakers, training, and workshops will be revealed soon.
When: November 29 – December 1, 2017
Where: Venetian Resort and Hotel, Las Vegas, NV, USA (unconfirmed)
Amazon's re: Invent, its annual conference that has become the biggest cloud event anywhere, will be held once again in Vegas.
Topics to be covered include Amazon services like Amazon EC2 Container Service, AWS Lambda, Amazon Aurora, and Amazon Kinesis. It's a unique opportunity to get your technical questions answered directly by AWS architects, engineers, and partners.
The second day of the session will feature a keynote presented by the Financial Times Person of the Year, Andy Jassy. The four-day session will offer over 400 workshops, breakout sessions, and multiple opportunities to learn.
When: December 6-7, 2017
Where: Austin convention Center, Austin, TX, USA
There is still very little information about this event in 2017, but it's a must attend for anyone who is "cloud native" as well as users of Kubernetes. The event focuses on the components, architecture and communities that need to work together to create a cloud native operation.
Sponsors include: CoreOS, Intel, RedHat, Tigera, Weaveworks. The event is organized by the Linux Foundation.


If you're planning one or more of these events, make sure to meet up with Aqua Security. For more information, contact us.