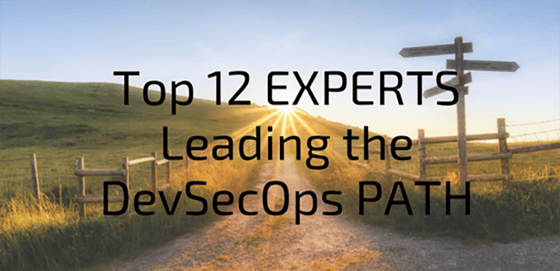 Rani Osnat
August 07, 2017
Top 12 Experts Leading the DevSecOps Path
Evangelists for DevSecOps integration are building interest in the discipline and providing an understanding of the power of using a DevSecOps approach. In this post we'll look at the best, of the best, DevSecOps pioneers.
Larry Maccherone is a thought leader in the DevSecOps scene. He is currently in charge of the DevSecOps transformation at Comcast, responsible for their enterprise wide Secure Development Lifecycle. You can watch an interesting video interview with Larry on using data for better decisions. You can also see Larry's talk on DevSecOps at the Agile 2017 in August.
Henrik Johansson currently works at AWS as a Security Solutions Architect. Henrik recently spoke at the RSA 2017 conference on using "DevSecOps In the Cloud is Not Just CI/CD: Embracing Security Automation". In his presentation he spoke about how important it is that modern security teams are made up from existing units, and how Cloud workloads can help to pull security automation into an enterprise infrastructure.
Joshua Corman was the Director of Security Intelligence at Akamai until 2014. He stood alongside Gene Kim at RSA 2012, where together they presented "Security is Dead. Long Live Rugged DevOps" which introduced the idea of weaving security into DevOps.
Nicole Forsgren is CEO and Chief Scientist at Dora who focuses on DevOps research. Nicole is an internationally respected expert, with her research supported by the likes of NASA and the Gates Foundation. She helped to write the "2016 State of DevOps" report which looks at how best to integrate security into DevOps.
Shannon Lietz currently works as the DevSecOPs leader for Inuit, operating a 24/7 DevSecOps team. This experience has propelled Lietz to the top of her game. You should check out her presentation at this years DevSecCon Asia "Security is Shifting Left". Her column in the DevSecOps blog is also worth a visit.
Paul Reed specializes in software delivery, continuous delivery, and DevOps. He has previously worked with companies such as Symantec and Mozilla. He now works as a consultant helping companies to deliver using a DevOps philosophy. Reed also takes part in 'The Ship Show', a twice monthly podcast, which delivers content around DevOps and delivery management.
Damon Edwards is the co-founder and Chief Product Officer for RunDeck where he is in charge of DevOps and IT Operations. Damon is a presenter on the DevOps Cafe podcast along with John Willis. His session at the RSA 2017 DevSecOps edition, "Ops Happens: DevOps After Deployment" is a must see.
John Willis is an IT veteran with over 35 years of experience. He keeps a number of his presentations under GitHub, including his RSA 2017 DevSecOps presentation, "Breaking Bad Equilibrium". He is also co-author of "The DevOps Handbook" with Gene Kim.
Jez Humble has been described as a digital influencer by Forbes magazine with his DevOps treatise on "Continuous Delivery: Reliable Software Releases Through Build, Test and Deployment Automation". Jez lectures at University of California, Berkeley and makes his class materials available here.
Adrian is a Docker Captain who has been part of the container ecosystem since the early days of Docker. He is the author of the O'Reilly book "Using Docker", published in late 2015. Adrian is currently Chief Scientist at Container Solutions, which focuses on consulting and product development for microservices and containers.
Full disclosure, we're proud to say, Liz has recently joined the Aqua Security team as a technology evangelist. She has mounts of experience in software development and product management from working on network protocols and distributed systems at Metaswitch Networks, Skype, Microscaling Systems and others. Liz published the book "How to containerize your Go code" earlier this year, making her an official O'Reilly author. Combining her DevOps skills and knowledge with Aqua's Container Secuirty Platform emphasizes the importance of the collaboration between DevOps and Security and ultimately implementing DevSecOps. You can check out more of Liz's projects here.
Patrick is the founder of DevOpsDays, the community driven series of technical conferences covering topics of software development, IT infrastructure operations, and the intersection between them, as well as a consultant and speaker. Patrick is also the co-author of "The DevOps Handbook" along side Gene Kim and John Willis, and his Jedi blog (Just Enough Developed Infrastructure) is a fun read.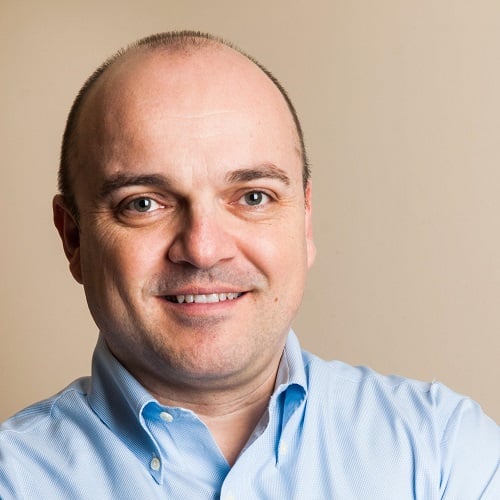 Rani Osnat
Rani is the VP of Product Marketing and Strategy at Aqua. Rani has worked in enterprise software companies more than 25 years, spanning project management, product management and marketing, including a decade as VP of marketing for innovative startups in the cyber-security and cloud arenas. Previously Rani was also a management consultant in the London office of Booz & Co. He holds an MBA from INSEAD in Fontainebleau, France. Rani is an avid wine geek, and a slightly less avid painter and electronic music composer.