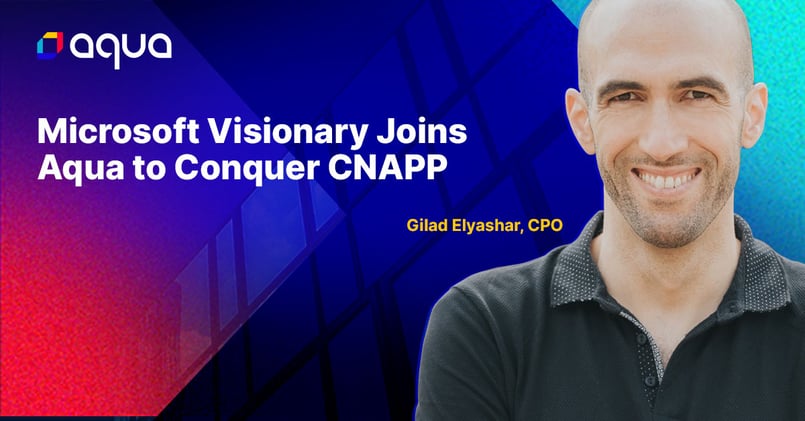 The Future is CNAPP: Why I Joined Aqua
Why did I join Aqua? Coming from Microsoft Defender, I have witnessed the CNAPP market mature. I've seen players of all shapes emerge, and I've seen customers come to understand why they need dedicated cloud security. Through all of it Aqua always stood up in my mind as a leader in the cloud security race, and here's why:
Reason 1: Tidal shift towards Aqua's Expertise
Next year, we expect nearly 90% of all new development built with cloud native tools and methods. With the deepest cloud native expertise in the market, Aqua is the vendor best positioned to win. They have been helping build this market for years while pioneering and continuously innovating in containers and Kubernetes security. The Aqua Nautilus research team is a great example of that. Focused only on cloud native attacks, they find new vulnerabilities and misconfigurations that help identify and close massive gaps for customers and others alike such as the recently published GitHub dataset research and the 250 million exposed artifacts. Aqua Nautilus keeps you safe. Whether you know it or not, their knowledge is encapsulated in everything Aqua does.
For another example, look at Aqua's open source projects. Here are some of the largest, most influential cloud native security tools on the planet. Hundreds of millions of downloads, hundreds of thousands of daily users. Aqua's open source tools are so advanced and established in the market that Aqua's competitors are using them as their de-facto scanning tools!
And let's not forget Aqua's products. Aqua has hundreds of customers, 40% of the fortune 100. The largest banks in the world, governments, insurance, manufacturing, healthcare, the list goes on. Aqua has the deepest cloud native knowledge available, and it is the leader. As customers embrace cloud native, they know they need more than traditional security tools. The tide is shifting towards Aqua's strength.
Reason 2: Horizontal Market Consolidation
Coming from Microsoft, I've witnessed the market maturation of cloud native security. I've seen many new players emerge and incredible technological advancements. Most importantly, I've seen the cybersecurity industry recognize the criticality of dedicated cloud native security. I've also watched noisy and disparate solutions create confusion as everyone vies for a piece of the CNAPP pie.
My experience in working with hundreds of enterprise customers has proven that they are looking for a consolidated, unified CNAPP. We are witnessing the emergence of a new market and a major change as security teams and development teams alike work together to solve this problem. And while there are many vendors who offer pieces of a solution, Aqua is the only solution on the market that brings all of the building blocks together into one comprehensive cloud security platform.
What does that mean? It means a product that has the three key elements of any CNAPP: supply chain security, posture management and runtime protection all in one integrated platform. Aqua likes to call it code to cloud and back, and the efficiency and accuracy of this approach shorten time to market for new applications and ease compliance while reducing risk to the business. This is how you win.
Reason 3: Runtime Security is the Key
The ability to protect workloads in runtime is a critical element in a security solution, and by far the most technologically challenging one. It isn't good enough to point out all the issues and leave customers to fix them. The answer must be complemented by the ability to stop attacks and mitigate exposure in real time.
From the founding of the company, Aqua set out to create a runtime security solution. After 7 years, they have the most advanced and capable cloud native runtime solution on the market. They inspect the kernel to identify behaviors that are unique to cloud native and fold in the know how from Nautilus and the open source community to build unique products to deeply protect customers.
My Road to Aqua
As mentioned, I have been following Aqua for years. As part of Israeli cyber community, I have followed the company journey from cloud native security pioneer to cloud native security leader. I've witnessed the advancement of its technology, the company's ongoing momentum and innovation, its ability to stay singularly focused amidst this emerging, crowded market.
Over the years, I've also had the privilege of getting to know Aqua's co-founders Dror Davidoff and Amir Jerbi. A successful company cannot be exclusively driven by its product. Undoubtedly, strong leadership at the helm of the organization is what truly sets it apart. Dror and Amir are those type of leaders.
I don't believe it's a coincidence that I landed at Aqua when I did. The market is undergoing a pivotal moment. Aqua's in a period of hypergrowth, and customers are looking for security as they move to the cloud. That is why I'm extremely excited to join Aqua as its first-ever Chief Product Officer, and to lead the global product management organization from strategy to execution.
My Focus as CPO: Customers at the Core
Aqua has always been a customer-centric organization, and my goal is to build upon that. My team and I will continue to speak to customers continuously – whether it's in person, virtually or during an Aqua customer event, customer interaction and insights are the core of my role as CPO and the foundation of a successful product strategy and execution. It's taking hundreds and thousands of pieces of feedback and distilling them to create the most valuable product offering possible.
We are at a pivotal moment in cloud security. While the cloud security space has undergone momentous growth in the past few years with numerous vendors emerging with various capabilities, the next wave of evolution in this market is now. Aqua is uniquely positioned to emerge as the leader, and I'm thrilled to join the team that helps the world's largest enterprises move to the cloud securely.

Gilad Elyashar
Gilad is Chief Product Officer at Aqua responsible for leading the product management organization from strategy to execution. He is an experienced product management leader with over 15 years of proven leadership in guiding large product management teams. He spent 15 years with Microsoft where he most recently served as Partner Director of Product Management, Microsoft Defender for Cloud, building the company's first CNAPP. He has successfully built and launched products, teams, and processes from incubation to growth and massive scale.