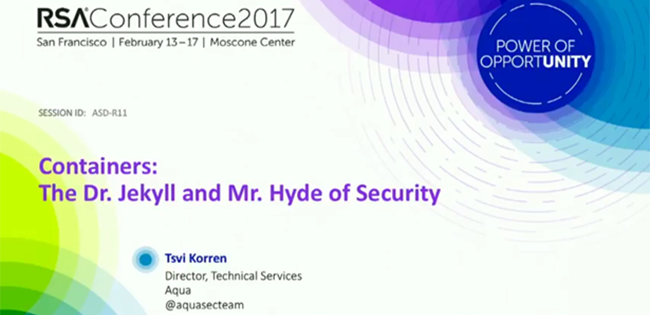 Containers - The Dr. Jekyll and Mr. Hyde of Security
At the RSA conference last February, our very own Tsvi Korren packed a room full of more than 400 security pros who came to get the lowdown on container security. This session is now available online.
Here's what some conference attendees had to say about this presentation (taken verbatim from the RSA feedback survey):
Best presentation of the conference.
Great content and great speaking style. This is a technology I needed to better understand and he presented very well. I walked away with a much better appreciation for it.
Great talk - I gained a good understanding of containers and how to think about dealing with them securely!

Rani Osnat
Rani is the SVP of Strategy at Aqua. Rani has worked in enterprise software companies more than 25 years, spanning project management, product management and marketing, including a decade as VP of marketing for innovative startups in the cyber-security and cloud arenas. Previously Rani was also a management consultant in the London office of Booz & Co. He holds an MBA from INSEAD in Fontainebleau, France. Rani is an avid wine geek, and a slightly less avid painter and electronic music composer.