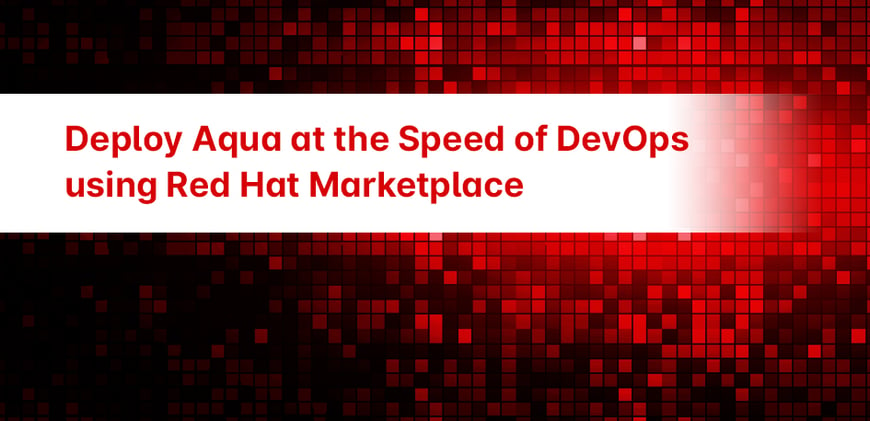 Deploy Aqua at the Speed of DevOps using Red Hat Marketplace
IBM joins the growing list of cloud vendors to develop their own e-commerce platform, as they recently developed Red Hat Marketplace. This new platform provides a digital, transactable catalog with various software listings covering both proprietary cloud services as well as solutions from independent software vendors, like us at Aqua Security. The marketplace makes it easy for IT leaders to find, test, and buy software that has been technically validated to work seamlessly with IBM and Red Hat products — and even simplifies software deployment through mechanisms like Kubernetes Operators.
"We believe Red Hat Marketplace is an essential destination to unlock the value of cloud investments," said Lars Herrmann, senior director of technology partnerships, Red Hat. "With the marketplace, we are making it as fast and easy as possible for companies to implement the tools and technologies that can help them succeed in this hybrid, multi-cloud world. We've simplified the steps to find and purchase the Aqua platform that is tested, certified and supported on Red Hat OpenShift, and we've removed operational barriers to deploy and manage Aqua on Kubernetes-native infrastructure to secure your applications."
The Red Hat Marketplace's searchability and ease-of-use allow IT organizations to test and compare software solutions more efficiently and helps to accelerate the purchasing lifecycle. This, on top of the benefit of leveraging existing billing mechanisms to make quick and painless software purchases, makes digital marketplaces an essential tool for any modern organization looking to build and ship applications more quickly.
Automate your Red Hat Marketplace deployment using Aqua's OpenShift-certified Operator
"Operators" are the most Kubernetes-native way of managing the lifecycle of applications. They are purpose-built to run a Kubernetes application with operational knowledge baked in, making them smarter and more tailored than generic automation tools.
OpenShift's embedded OperatorHub provides a curated list of operators that are verified on OpenShift and technically certified by Red Hat. This certification validates the operator functionality and keeps customers at ease knowing that Aqua's OpenShift-certified Operator can successfully handle the scale of large enterprise deployments. Aqua's Operator provides a consistent experience across a broad range of applications, spanning both private and public clouds.
Thanks to feedback from some of our key customers, we've incorporated SHA image digests in the Aqua Operator to use instead of tags for all container images, making it easier for enterprises to leverage ImageContentSourcePolicies and fit right into any disconnected environment setup. Aqua's application images are also stored in the Red Hat-managed Connect registry and are available for use without requiring access to any private image registries during the deployment.
Aqua's Operator also provides a variety of Custom Resources (CR) that enable you to create and configure different Aqua application components. For example, Aqua also provides an "easy button" level of deployment in the form of Aqua CSP CR. This particular CR enables you to create the complete Aqua CSP application with just one click, centralizing your deployment instead of having to deal with multiple components separately. Luckily, this will not decrease configurability. In fact, Aqua will allow you to tweak settings for each of the Aqua pieces, such as the number of replicas, route creation, etc.
Beyond our OpenShift-certified Operator, Aqua additionally supports multiple deployment methods, allowing customers to choose their preferred technique — depending on what they're comfortable with. Helm Charts, which are supported, is a commonly used deployment method for a Kubernetes environment and are typically very customizable. Aqua has also recently developed a more interactive approach to deployment through "aquactl," an easy-to-use approach supporting all major managed-Kubernetes platforms.
Better Together: Red Hat and Aqua
Aqua's native integration with OpenShift empowers enterprises to bridge the gap between IT and security teams and allows the use of modern application development and deployment methods while increasing their overall security posture — all with no impact on agility or performance.
Aqua Security is one of Red Hat's earliest technology partners to have certified its cloud native security platform on the OpenShift Container Platform (OCP) and has become a key security partner within the Red Hat Partner Connect ecosystem. Red Hat Certified software, like the Aqua Cloud Native Security Platform, should be a key component for anyone moving production workloads onto Red Hat OpenShift. Our mutual customers can benefit greatly from our shared expertise and experience to further optimize their IT departments.