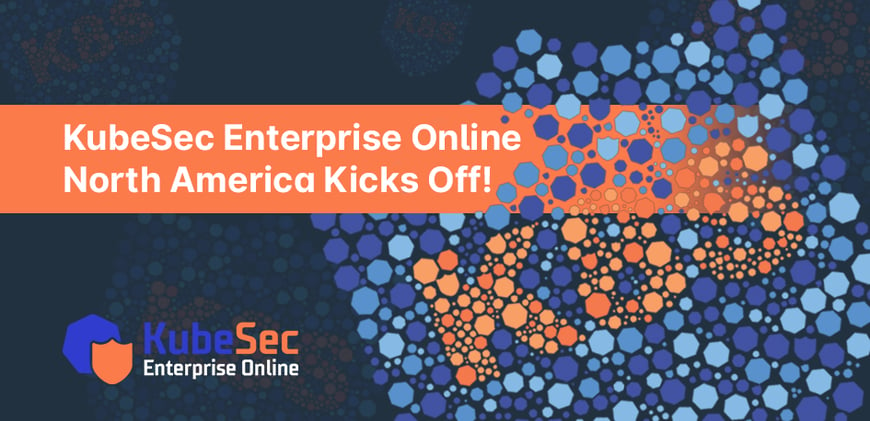 KubeSec Enterprise Online North America Kicks Off!
Looking for a great start to the year? We got you covered! For the fifth time, Aqua will host the KubeSec Enterprise Summit, an industry event entirely dedicated to the security of cloud native applications. While we're looking forward to connecting with you all in-person again someday, we are also, as was the case with our last summit, excited to host KubeSec as a series of online sessions.
They will bring together industry thought leaders, analysts, and guest speakers from many prominent end-user and technology organizations, such as Royal Bank of Canada, CircleCI, Sysdig, Refactr, and others. Join us as we will be streaming live over the next nine weeks to help you take your application security to the next level.
What to Expect
Today, there's no shortage of challenges in cloud native security. To help you better understand and navigate them, KubeSec will focus on real-world enterprise experience in securing production environments. As sessions unfold, speakers will be discussing multiple security issues and challenges around Kubernetes and cloud native applications. Whether you are a newcomer and just deploying your first Kubernetes cluster into production or have a more mature implementation, you will learn valuable insights from the mistakes and successes of your peers.
On top of practical end-user experience, KubeSec offers a unique opportunity to hear from a range of leading experts, analysts, and guest speakers who know the ins and outs of the cloud native industry. Every week starting January 21st, they will be sharing emerging trends, market insights, best practices, and more. The online sessions will also go deeper into key areas such as securing Kubernetes clusters, CI/CD pipelines, runtime security, DevSecOps – as well as what's coming next for cloud native security.
Mark Your Calendar
This year, the KubeSec agenda features a great lineup of talks and speakers, including:

"Are your CI/CD Pipelines Secure?"
Angel Rivera, Developer Advocate at CircleCI, will discuss common obstacles in securing applications and CI/CD pipelines, as well as in protecting sensitive access to integration targets. You will learn strategies to secure apps, sensitive data, integration points and improving your overall pipeline security posture.

"Seccomp Notify: the new Linux superpower coming to a Kubernetes cluster near you!"
Alban Crequy, Co-Founder & Director at Kinvolk, will share how the new Seccomp Notify feature in Linux 5.9 is enabling more complex policies and the ability to write your own agents to handle new use cases in Kubernetes.

"How to invite Security to the table…without feeling like you called the cops to break up the party"
Brynna Nery, Cloud Security Solutions Architect (Senior Manager) at Royal Bank of Canada, will talk about addressing all the needs to secure an almost entirely new tech stack and how to choose the best fit in an industry that is saturated with tools.

"Who else is in your pod?"
Riyaz Walikar, Co-Founder at Kloudle Inc., will focus on different ways an attacker can gain access to your Kubernetes cluster, as well as show a demo of what an "Attacker in a pod" can do, highlighting how K8s security controls can help during an ongoing attack.
Don't forget to add these to your calendar - all KubeSec sessions will be streaming live. As part of the attendee experience, you will also have an opportunity to engage and interact with speakers during live Q&As at the end of each session. For those who can't make it to the live broadcast, all the talks will also be available on demand after the event.
See you at KubeSec 2021!

Andy Feit
As Aqua's VP of Go-to-Market, Andy brings more than 25 years of marketing experience in the security and IT markets to Aqua. Prior to joining Aqua in early 2018, Andy held the position of Head of Threat Prevention Product Marketing at Check Point Software Technologies. Previously, he was responsible for Risk and Compliance Marketing with McAfee / Intel Security, following the acquisition of database security leader Sentrigo.