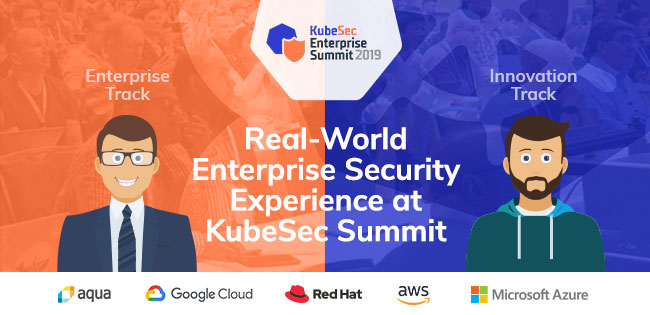 Real-World Enterprise Security Experience at KubeSec Summit
For the second time, Aqua will host the KubeSec Enterprise Summit next week, together with our co-hosts AWS, Google Cloud, Microsoft Azure, and Red Hat. The event is co-located with KubeCon/CloudNativeCon in Barcelona and will take place on Monday, May 20th. Unlike other co-located events, this full day program focuses on the challenges faced by enterprises with demanding security and compliance requirements when deploying Kubernetes in production. Vendor pitches and lab experiment stories are not part of the agenda.
This summit is a unique opportunity to hear from others who have already deployed Kubernetes to support highly secure, mission-critical applications, as well as from a range of industry and technology experts on security and compliance.
End-user organizations speaking at KubeSec Enterprise Summit include: Schneider Electric, TrueLayer and Adevinta. We also have a great lineup of additional speakers from Aqua and our co-hosts AWS, Microsoft and Google, as well as Cisco, Pivotal, NCC Group, Thales Cloud, Codecentric AG and Rookout. There will be a keynote address by Amy DeMartine, principal analyst at Forrester.
Navigating Through the Day
The event is designed to provide content about trends in Kubernetes security practices, in both formal sessions and via informal 1:1 networking with your peers.
This year, due to a large number of great sessions, we have joint sessions in the morning. After lunch, we will split into two tracks: An Enterprise track that focuses on the business and governance aspects, and an Innovation track that focuses on the more technical aspects of K8s deployment and innovative projects in the ecosystem. Topics include OPA, gVisor, multi-tenancy, and SOC2 compliance. Here is a list of the KubeSec speakers and presentations:
Make Sure You Attend These Presentations
We highly recommend catching the following speakers:
Amy DeMartine, Forrester Research: Amy helps security and risk professionals transform their current software and application security practices to support continuous delivery and improvement, focusing on strong partnerships with application development, operations, and business teams. Her topic is "Outside The Box: Necessary Security Changes In a DevOps World".
Anthony Andrades, Schneider Electric: Anthony's talk will focus on securing and democratizing microservice development at the enterprise level.
Luca Martinetti, TrueLayer: Luca will talk about building an Open Banking platform on Kubernetes and its privacy and scalability challenges.
Fredrik Klingenberg, Hafslund Nett: Fredrik will be sharing a customer success story on moving the enterprise to K8s at this Norwegian electricity company.
Rory McCune, NCC Group: Rory's topic is entitled "Kubernetes Security - What a difference a year makes". Rory is one of the authors of the CIS Benchmark for Kubernetes.
Liz Rice, Aqua Security: Liz is a technology evangelist and container security specialists. She will be speaking on the topic of "Getting Permission or Asking for Forgiveness." In her talk, she will explore how permissions work in Kubernetes.
Meet Aqua Security
If you can't make it to KubeSec, be sure to come by the Aqua booth #G15 during KubeCon, from Tuesday, May 21st to Thursday, May 23rd. Meet with the Aqua team and see demos of security solutions for Kubernetes, containers, and serverless apps.
Register and Connect With Us!
Click here to register for KubeCon and add KubeSec as your co-located event.
If you want to register for KubeSec separately, please send an email to kubesec@aquasec.com.
Whether you are just beginning to roll out your first production implementation of Kubernetes, or already have clusters in production, you are sure to get valuable insights from this unique event.

Andy Feit
As Aqua's VP of Go-to-Market, Andy brings more than 25 years of marketing experience in the security and IT markets to Aqua. Prior to joining Aqua in early 2018, Andy held the position of Head of Threat Prevention Product Marketing at Check Point Software Technologies. Previously, he was responsible for Risk and Compliance Marketing with McAfee / Intel Security, following the acquisition of database security leader Sentrigo.