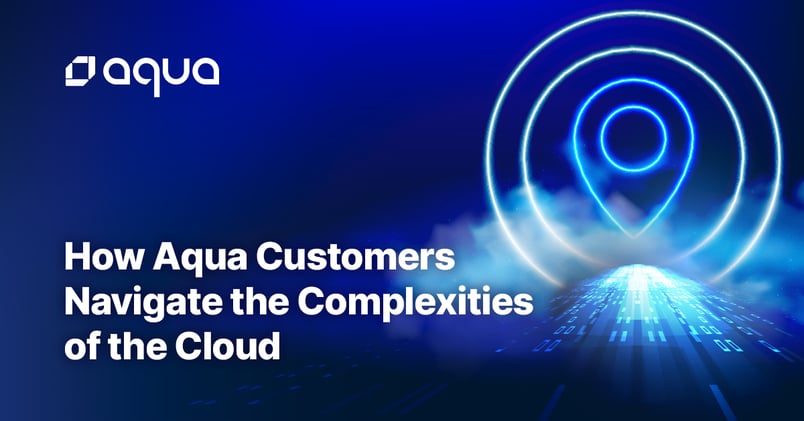 How Aqua Customers Navigate the Complexities of the Cloud
Enterprises are building, deploying, and managing modern applications in cloud computing environments. By adopting cloud technologies, they can build highly scalable, flexible, and resilient applications that can be updated quickly. Cloud native technologies support fast and frequent changes to applications without impacting service delivery. They help industries increase efficiency, reduce costs, and ensure availability of applications to meet their customer demands.
With all the benefits the cloud has to offer, it also introduces a new set of challenges, particularly for industries where security and compliance are priorities. When PPRO and Spotnana, influential companies within the fintech and travel sectors, needed to prioritize their security and regulatory compliance they turned to Aqua for a solution. The growing complexity of their environments, the numerous alerts hindering their ability to effectively monitor and mitigate vulnerabilities and the mounting concerns around keeping speed and agility in the DevOps team while ensuring security were only a few of the challenges each were looking to resolve.
Fintech Leader Prioritizes Vulnerabilities to Streamline Remediation
PPRO (pronounced "p-pro") is at the forefront of the fintech industry providing banks and businesses with a globalized digital payment infrastructure. PPRO's secure and unified payment platform grants customers access to card schemes, payment methods, fraud screening tools, and other robust capabilities. These tools empower users to conduct quick transactions, enhance checkout conversions, and streamline services via a single connection. PayPal, Stripe, and GlobalPayments are just a few of the businesses that rely on PPRO.

As a global payment provider, PPRO adheres to stringent regulations spanning various industries and countries. Looking for a complete cloud native solution to help balance the multiple workloads and environments, PPRO chose Aqua to protect and monitor their customers' payment platforms, ensuring end-to-end visibility, speed, and compliance.

The Aqua solution bridges the gap between PPRO's developers and management to prioritize vulnerabilities and streamline remediation efforts. PPRO's security team can now collaborate to address and resolve discovered vulnerabilities, whether that means fixing them immediately, monitoring for malicious activity at runtime, or flagging the non-compliant resource. By scanning for secrets hidden below the surface of PPRO's platform, Aqua's product has transformed PPRO's operational hygiene.

Time savings proved evident during the Log4J and Spring4Shell vulnerabilities. The first instance occurred before PPRO's deployment of Aqua, while the second vulnerability was detected shortly after the implementation. In response to the first CVE report, PPRO's security team took immediate action, developing and testing writing scripts to run against all known repositories – a task that consumed hours of effort.
Since the implementation of the Aqua platform, PPRO's security team receives instant notifications and gains clear visibility into all affected applications via the Aqua dashboard. What used to take hours or days of research and remediation now only takes a matter of minutes. Aqua's cloud native protection platform provides PPRO with a competitive advantage in the financial services sector respectively.
Building Security for AWS Fargate and Cloud Native Environments
Spotnana is a global travel-as-a-service platform redefining corporate travel with personalized and cost-effective offerings. Spotnana provides cloud-based travel solutions to bring simplicity and trust to adventurers worldwide. Leveraging cloud computing, microservices, and open APIs, Spotnana drives innovation in the travel industry. Corporations, agencies, suppliers, and technology providers using Spotnana's platform can deliver travel experiences smoothly to connect people from all around the world.
To establish trust with its customers, Spotnana must secure the cloud native technology that powers their transformative travel-as-a-service platform.
Built on AWS Fargate, Spotnana assumes responsibility for the security of their cloud native applications, including video and runtime. Gabriel Alexandru, Senior Security Engineer at Spotnana, emphasized key concerns in the company's security posture, "We were building the security function from the ground up and lacked telemetry and protection on our AWS containers," he said. "Without forensic evidence of what was happening on those containers, we couldn't harden runtime and certainly couldn't prevent anything from happening at runtime." Spotnana needed cloud native protection that would fit into its existing tools and workflows, ensuring end-to-end protection from development to runtime.

Aqua emerged as the optimal solution to secure Spotnana's travel-as-a-service platform with AWS Fargate. The Aqua platform provides essential telemetry, runtime hardening, and comprehensive cloud native security across the entire application lifecycle. Seamlessly integrating into Spotnana's DevSecOps workflows, Aqua brings dynamic threat analysis, container protection, and detection of malicious behavior into their security landscape. With effortless scalability, accurate threat detection, and Kubernetes expertise, Aqua delivers unmatched value for the Spotnana platform, its security team, and its customers.

Spotnana intends to further leverage Aqua's features and values Aqua's valuable research and educational content, which keeps them informed of the latest threats. With Aqua's support, Spotnana maintains a secure infrastructure while cultivating innovation and delivering exceptional travel experiences.
Empowering Companies to Harness the Full Potential of Cloud Native Technologies
In navigating the complexities of the cloud, the stories of PPRO and Spotnana highlight the pivotal role that Aqua plays in enabling organizations to harness the full potential of cloud native technologies while addressing the unique challenges they bring. As cloud computing continues to reshape industries, security and compliance remain paramount concerns. PPRO's journey illustrates how Aqua facilitates the seamless integration of security into DevOps workflows, transforming operational hygiene and reducing response times to vulnerabilities. Spotnana's experience highlights how Aqua empowers companies to build trust by securing cloud native environments and ensuring end-to-end protection.

Both stories exemplify Aqua's ability to not only safeguard critical assets but also drive innovation and enhance the delivery of exceptional customer experiences in the cloud era. Aqua is not merely a solution but a strategic partner in navigating the cloud's complexities, safeguarding enterprises, and propelling them towards success in the ever-evolving digital landscape.

Aqua strives to empower companies like PPRO and Spotnana to navigate the complexities of the cloud securely and confidently. Through our comprehensive solutions and dedicated support, we pave a future of unparalleled trust and innovation for our valued customers by offering the only true CNAPP on the market to help solve the challenges of today's cloud environments.

These are just a few of the customers Aqua has helped. To read more about their cloud journeys or to see how others are using the Aqua platform to solve their cloud challenges, visit our customer solutions page.

Kristen Nolan
Kristen Nolan is Aqua's Global Customer Marketing Manager and works to foster loyalty and engagement across Aqua's customer base. She has a passion for people and collaboration always bringing a customer-first mindset. Prior to joining Aqua, Kristen led content programs at Mimecast. In her spare time, she is a youth sports coach and advocate.