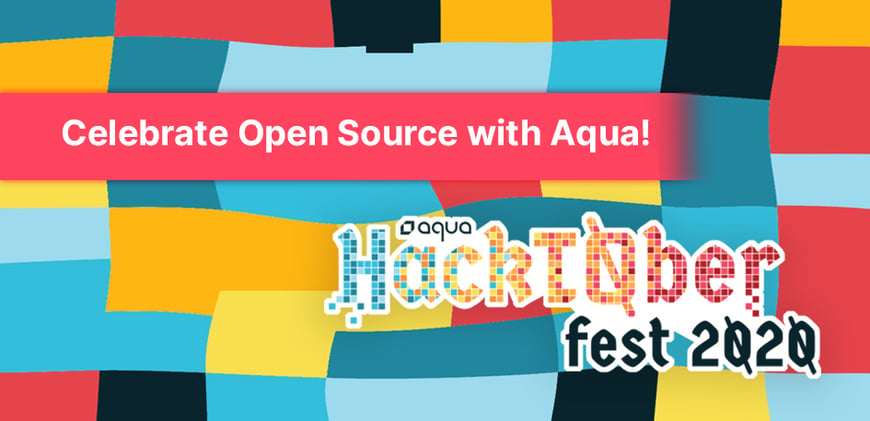 Hacktoberfest 2020: Celebrate Open Source with Aqua!
October is upon us, and Hacktoberfest is here again! It's the month-long celebration of something we all love – open source. Our second annual Hacktoberfest officially kicks off now!
In honor of Hacktoberfest, we want to recognize our community and reward your contributions to our open source projects during October. While we encourage this all year round, now you can get special prizes for your efforts. Last October, we were excited to see 96 prize winners contributing a total of 210 pull requests (PRs) across all our repos!
So, if you are as passionate about open source as we are, grab your laptop, get comfy, and – let's get hacking!
How to Contribute
To get started, learn about our projects, and think about the ways you can contribute. We are looking for meaningful contributions to our open source products. It can be adding new features, fixing bugs, improving documentation, integrating with other software, or just creating content in other places that educates about our technology. By getting involved, you get a unique opportunity to apply your skills at the forefront of the cloud native security.
This year, the following projects are participating in Hacktoberfest:
Based on your contribution, we will be giving out some cool prizes: branded sticker packs, face masks, or limited edition Aqua Hacktoberfest T-shirts!

To make things easy, we created a dedicated GitHub repo with everything you need to know about this year's Hacktoberfest: https://github.com/aquasecurity/Hacktoberfest. Familiarize yourself with the guidelines and projects, but don't wait too long – October is upon us. Find something you want to work on and get the ball rolling! May the open source be with you.
Open Source is About More Than Code
There are all sorts of ways to get involved! It takes many skills to build open source software and historically the spotlight has focused on coding. However, you can contribute to open source in many ways beyond writing code in the product. This year, we support different types of non-code contributions, including UI/UX and design, technical documentation, sharing your experience, etc.
Just a few ideas - you can record a deep-dive YouTube video about how you used Starboard, or create a compelling blog post or an infographic highlighting the benefits of using Trivy. Time to get creative – we can't wait to see what you come up with this year!
Why Contribute?
For many of us, open source is not just a hobby. It's an opportunity to be a part of something bigger, to contribute in a meaningful way to the projects we care about. Whether you're an open source newbie or an experienced contributor, it's rewarding to be able to make changes, even the small ones - which go a great way to move the world in a positive direction. As open source brings together individuals with diverse skills, experiences, and backgrounds from all over the world, it offers plenty of ways to grow, both on professional and personal levels. Beyond this, it's just a fun and enjoyable experience (and sometimes a chance to get cool swag!).
Securing the World's Code, Together
At Aqua, we're deeply passionate about open source and helping drive security innovation across the cloud native ecosystem. That's why we've built a team exclusively dedicated to open source, separate from our commercial engineering team. This ensures we can commit to creating and maintaining high quality code, as well as contribute to other open source community projects.
Security is often cited as the #1 concern that hinders cloud native adoption. We're committed to providing tools for building secure code and enabling businesses to move faster. Open source drives this adoption forward and allows us to foster market education and technology innovation.
We believe collaboration is key, as talent and knowledge defy borders. Only by sharing our ideas, passion, and code, we can create better products and solve real-world problems.
Happy Hacktoberfest! We hope it will be a rewarding one.
Watch Liz Rice and Itay Shakury launching Aqua's 2020 Hacktoberfest campaign, all details inside and in n the Hacktoberfest repo: github.com/aquasecurity/Hacktoberfest

Lena Fuks
Lena Fuks is a Product Marketing Content Manager at Aqua. With a background in public relations for technology companies, Lena now writes blogs, whitepapers, and articles to help people understand the value of Aqua. She is passionate about simplifying complex things and engaging with audiences through storytelling. In her free time, Lena enjoys working out and watching beautiful Mediterranean sunsets.