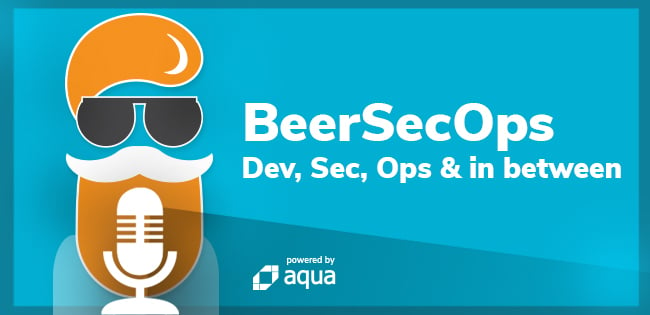 BeerSecOps: Podcasts About Dev, Sec, Ops, and Everything in Between
Steve Giguere is a DevSecOps Architect and Evangelist for Aqua. He spends his days working with organizations adopting cloud native technologies and how they can effectively secure their applications in the (relatively) new world of microservices. The evangelist part of him enjoys educating and learning from other experts.
"I have always loved a good podcast as an engaging way to share industry knowledge. I have been looking for podcasts that focus on DevOps and cloud native approaches. I was often left having to choose between the usual suspects of Dev, Sec, or Ops. Rarely did I find anything really breaking down those silos and really representing the community we are in. Recently, I thought, perhaps I could just make my own? Perhaps Aqua would help!"
Enter BeerSecOps, powered by Aqua.
On our podcasts, Steve talks to security and DevOps experts to gain firsthand knowledge of how they adjust to the shifts and changes in the space.  The podcast brings cloud native security challenges to the forefront, so we will all learn from the best in the industry about trends, tools and more.
Hopefully what is normally an afterthought (security) can be part of a show where we can not only learn from the best in the industry about the up and coming trends, tools and talks, but also explore what might be around the corner for security considerations.  
So here we go!  
It's early days for BeerSecOps. We released a bunch of episodes, and a whole lot more are in the pipeline.  It's going great and we'd welcome anybody with a passion for new cloud native tech or security inclinations to join Steve for a show.  Come prepared also to discuss your favorite music, beer, or virtual reality cycling platforms.
Have a challenge or idea you want covered on BeerSecOps?
Email Steve at podcasts@aquasec.com
Here are the first episodes of BeerSecOps to get you started:
Episode 1 GitOps with Andrew Martin (ControlPlane)
Episode 2 Cloud Native and Open Source with Liz Rice
Episode 3 DevSecOps : Humans vs Non-humans with Josh Kirkwood
Episode 4 All about OWASP with Sam Stepanyan
Episode 5 With Michael Man, The Creator and Organizer of The DevSecOps London Gathering
Episode 6 Meet Elissa Shevinsky, CEO of Faster Than Light, Author of "Lean Out"
Listen to BeerSecOps podcasts on these platforms:





Also available on Pocket Casts, RadioPublic, Anchor.fm and others.