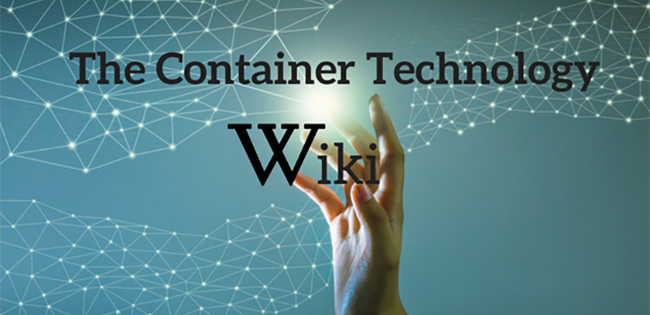 Container Technology Wiki – Your Container Knowledge Hub
Last week McKinsey & Company named container technology and DevOps as two of the top Ten trends redefining enterprise IT infrastructure and for good reason. No longer considered as "bleeding edge", containers, combined with DevOps, are revolutionizing the way applications are built and deployed. In a recent survey that we conducted, we found that 50% of respondents have one or more container applications in production. This is driven by developers and DevOps teams, as they're often the ones to adopt containers first and push them through the rest of the organization.
As with every new technology, there are many resources available to help you navigate through container technology, and one can often find oneself lost when trying to keep up with the latest news, updates, best practices and tutorials that the community puts online.
As a company that develops a container security platform and a keen user of containers in its own, we at Aqua were looking for a go-to place that will feature everything and anything to do with containers. Since we couldn't find such a place, we decided to create one ourselves. For the past few months we have been working passionately on the creation of a new vendor-agnostic online container technology wiki that will serve as the resource center for anyone interested in container technology, including container architecture, security and orchestration. This wiki will be THE container knowledge-base and is (to the best of our knowledge) the biggest organized compilation of everything that's been written around container technology to date.
Our goal was straightforward: to help the community understand "what's out there" in container technology and map out currently available resources and tutorials.
Today we are happy to share that our container wiki is live! We created a collaboratively-edited resource that will gather 10,000 URLs covering over 200 topics including container architecture, container ops (including automation, deployment, and more), container orchestration, and container platforms, with a special focus on Docker and Kubernetes technologies that are becoming ubiquitous in modern container setups. The wiki is still in its infancy with roughly 100 topics, but a dedicated team of editors is working on building up the full scope of categories.
In addition, the wiki will feature basic and advanced tutorials on topics such as setting up Docker Swarm or how to create a multi-tenant setup on OpenShift. Relevant industry events for the community will follow shortly.
Whether you're a team of one or are part of a larger group, we invite you to check out our container security wiki and make it your go-to hub for everything related to containers, at your fingertips. You are also invited to suggest content we may have missed, as well as point out any errors or outdated information – this industry changes quickly and it's not easy to keep up! (forms are available at the bottom of every page)

Rani Osnat
Rani is the SVP of Strategy at Aqua. Rani has worked in enterprise software companies more than 25 years, spanning project management, product management and marketing, including a decade as VP of marketing for innovative startups in the cyber-security and cloud arenas. Previously Rani was also a management consultant in the London office of Booz & Co. He holds an MBA from INSEAD in Fontainebleau, France. Rani is an avid wine geek, and a slightly less avid painter and electronic music composer.