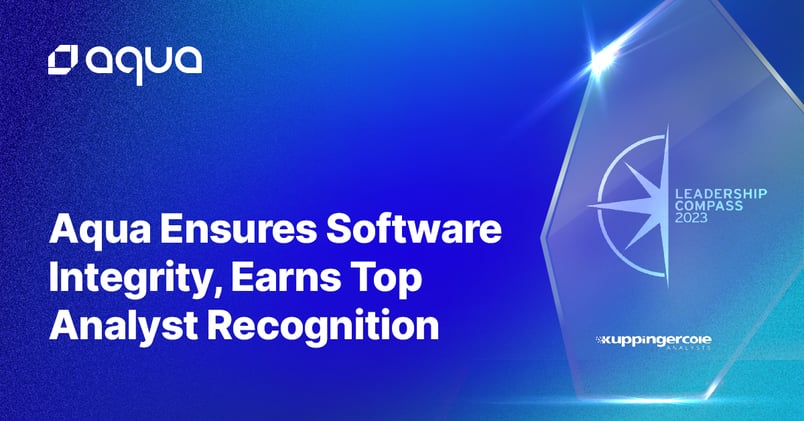 Aqua Ensures Software Integrity, Earns Top Analyst Recognition
The integrity of software continues to be a significant and evolving threat for organizations to protect valuable digital infrastructure and data. Attackers are constantly finding new ways to exploit vulnerabilities in code or compromise applications during the development process. Because of the complexity and lack of adequate security measures in place, exploiting the software supply chain has gained unique prominence.
In these attacks, attackers compromise one or more steps of the software development lifecycle to insert malicious code, vulnerabilities, or backdoors into legitimate software. The goal is to distribute compromised software to users, often without their knowledge, allowing the attackers to gain unauthorized access, steal sensitive information, or cause other forms of harm. Past attacks such as SolarWinds and CodeCov have shown how devastating these attacks can be on a business' cloud environment and how lucrative they are for those executing them.
Gartner predicts that by 2025, 45% of organizations globally will have experienced one or more software supply chain attacks. However, the question that remains is where can organizations turn to solve the software supply chain security problem?
Aqua's Leadership in Defining Software Supply Chain Security (SSCS)
Software supply chain security helps organizations detect, identify, analyze, and mitigate risks associated with the digital artifacts that enter their software via third parties like open source libraries, commercial software vendors, or outsourced development. To counter software supply chain attacks, organizations need to implement a multi-layered security approach.
This includes verifying the integrity of software sources, implementing strong authentication and authorization practices, regularly updating and patching software, conducting security audits of third-party components, and maintaining a robust incident response plan. A comprehensive supply chain security strategy combines risk management and cybersecurity principles to assess supply chain risks and implement measures to block, mitigate, or remediate them.
Steps to SSCS and how Aqua's SSCS solution solves them
Continuous Monitoring and Inventory:

The Aqua Platform enables visibility of the entire application lifecycle, so teams can continuously analyze risk of the software supply chain with runtime context to identify potential vulnerabilities and threats. Maintaining a living inventory of all software components with a Software Bill of Materials (SBOM), including dependencies, libraries, and third-party integrations.
Threat Intelligence Correlation: The Aqua Platform enhances supply chain security by aggregating data across the development lifecycle to identify patterns and potential threats, enabling proactive risk mitigation. It connects with the runtime environment to analyze threat intelligence in real-time, pinpointing vulnerabilities within their supply chain ecosystem, bolstering defense against cyberattacks and preemptively responds to emerging threats.
Automated Threat Detection: Aqua continuously monitors both the software development process and the production environment to detect suspicious activities, anomalies, and risk. Leveraging automated threat detection to identify, classify, and prioritize threats minimizes human error in the response process.
Behavioral Analytics: By analyzing user and system behaviors, Aqua can uncover insider threats and anomalous activities that occur in the CI/CD pipeline. Proactively mitigating risks in the supply chain that target the software development process and establishing baseline behavior profiles for tools, developers, and complex processes to identify activity that deviates from the standard.
Real-time Vulnerability Prioritization: Aqua empowers security teams to prioritize vulnerabilities according to the exploitability and risk severity they pose to the organization, and in addition gives developers the right context and fix information to remediate the vulnerability quickly. This reduces the window of exposure that an organization has to zero day vulnerability threats.
Zero Trust Development: Aqua enforces Zero Trust across the software development process to prevent unauthorized access or tampering of the code and components demanding continuous verification and strict access control, even within trusted environments, to thwart insider threats and external attacks.
Secure Deployment and Configuration: Security teams can remain confident in their application and cloud security posture by using Aqua to enforce deployment and configuration standards. They can also track and audit these standards in an automatically generated SBOM. Making it seamless for organizations to enforce policies that minimize the risk of misconfigurations being a source of exposure.
Evolving Regulations Around Software Supply Chain
Governments around the world have recognized the need to address the growing threat of software security attacks and have been implementing regulations to prevent and mitigate these risks. It's important to note that the landscape of software security and government regulations is constantly evolving. Organizations need to stay informed about the latest threats and regulatory developments to effectively protect their software systems and data.
Some notable examples include:
NIST Secure Software Development Framework (U.S.): The National Institute of Standards and Technology (NIST) developed a framework that provides guidelines for improving software supply chain weakness. It emphasizes adopting secure practices to help organizations manage and mitigate risk and vulnerabilities in their software supply chains.
GDPR (EU): The General Data Protection Regulation (GDPR) focuses on the protection of personal data and includes requirements for organizations to ensure the security of the data they handle.
CMMC (U.S. Department of Defense): The Cybersecurity Maturity Model Certification (CMMC) is a framework for assessing and enhancing the cybersecurity posture of contractors in the defense supply chain. It mandates different levels of cybersecurity controls based on the sensitivity of the information being handled.
EU NIS I and II Directives (EU): The European Union adopted the Network and Information Systems Directive I and II, which both aim to improve the security of critical infrastructure and essential services.
Software Bill of Materials (U.S.): The U.S. National Telecommunications and Information Administration (NTIA) has been working on guidelines for creating a Software Bill of Materials (SBOM), which would provide transparency into the components and dependencies of software to help organizations manage software supply chain risks.
Software Supply Chain Security Leadership Compass
"Aqua Security provides a strong cloud-native platform with its SSCS module's source code and build integrity capabilities, with particular strength in container security features. Aqua should be on the shortlist for organizations considering a SSCS solution."
The KuppingerCole Leadership Compass provides insight into the emerging end-to-end SSCS market and evaluated vendors across the industry. The Leadership Compass defines the term Software Supply Chain Security (SSCS) as "the ability to secure the software development lifecycle (SDLC) process throughout the development, testing, deployment, and maintenance phases – at every point along the way, including along the whole CI/CD pipeline." The report speaks to the need for having end-to-end visibility, at a granular level, at each phase of the software supply chain process.
Aqua was named a Market Champion and an Overall Leader in the 2023 KuppingerCole Software Supply Chain Security (SSCS) Leadership Compass. And ranked Aqua as a leader in every subcategory: market, product, and innovation.
Securing The Software Supply Chain from Build to Application to Production.
Aqua's Software Supply Chain Security solution secures your code, development environments, infrastructure, and pipeline processes so you can protect your bottom line and safely deliver innovation faster. The solution prevents successful attacks by helping you fix vulnerabilities and other issues as early as possible in your SDLC.
Discover more about Aqua's software supply chain solutions read the 2023 KuppingerCole Software Supply Chain Security Leadership Compass.

Cassandra Stanek
Cassandra Stanek is the Principal Product Marketing Manager for Software Supply Chain Security at Aqua. She has 9 years of product marketing experience focusing on innovative Cybersecurity and DevOps products in the startup and enterprise space.