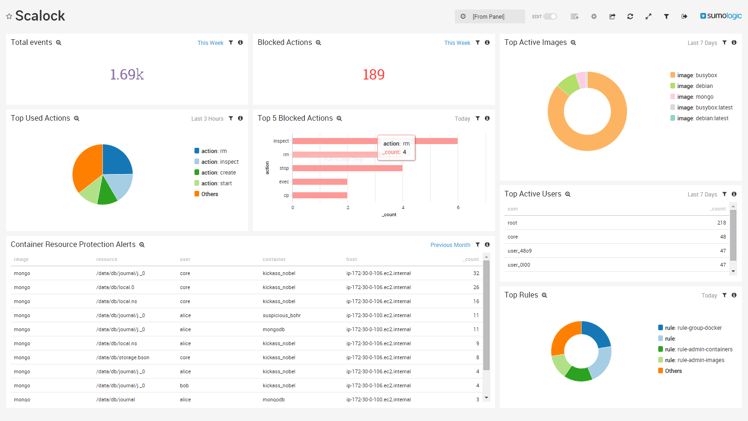 Partnership with Sumo Logic Simplifies Security Alerts and Logging Process
We recently partnered with Sumo Logic to integrate Scalock's solution with their continuous intelligence platform. Customers will now find it easier to make sense of the container security alerts and the logging process.
Sumo Logic helps the world's leading companies to analyze and digest their log data. Their SaaS-based log analytics platform analyzes TBs of data in real-time, surfacing the most important insights, so that customers can focus on what matters, like delivering high quality software and a great user experience.



Scalock-Sumo Logic Integration
With this integration, Sumo Logic customers can view, monitor, analyze and report on container security events detected by Scalock. For example, vulnerability assessment alerts of images and running containers, prohibited user and container access attempts and other suspicious activities - all within the Sumo Logic platform.
"No man is an island" wrote 17th century poet John Donne (he actually wrote 'iland' but we don't want you to think we can't spell!). We realize that container security needs to be viewed in the larger context of IT operations and IT security, and partnering with companies like Sumo Logic allows our customers to do just that, while keeping the number of dashboards and reporting tools they use manageable. So expect more integrations from Scalock with the container eco-system -- to be announced over the following months.

Amir Jerbi
Amir is the Co-Founder and CTO at Aqua. Amir has 20 years of security software experience in technical leadership positions. Amir co-founded Aqua with the vision of creating a security solution that will be simpler and lighter than traditional security products. Prior to Aqua, he was a Chief Architect at CA Technologies, in charge of the host based security product line, building enterprise grade security products for Global 1000 companies. Amir has 14 cloud and virtual security patents under his belt. In his free time, Amir enjoys backpacking in exotic places.