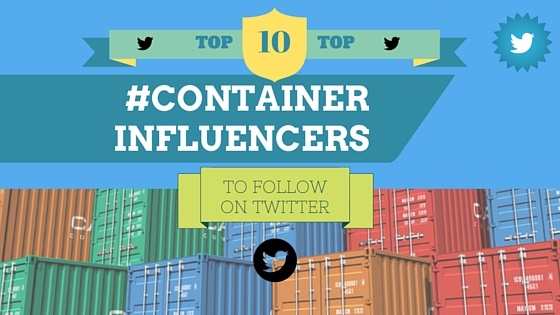 Top 10 #Container Influencers to Follow on Twitter
As virtual containers become even more popular, professionals will have only more to talk about and will continue expanding the social presence of the industry. I, for one, enjoy following these leaders and influencers on Twitter, especially those who best show how open source containers improve the DevOps experience.
Here's a roundup of thought leaders – in no particular order – who I believe best spread the word about open source and containers. Maybe you'll consider hitting "follow" for some or all of these Twitter accounts.
Jessie Frazelle -- @jessfraz
Followers: 16,400+
An engineer at the startup Mesosphere, Jessie Frazelle claims to have been called the "Keyser Soze of containers." Her tweets reflect that good-natured spirit: Frazelle intersperses smart posts about container developments -- including her direct contributions to the Docker open source project -- with promos to her personal blog and light-hearted musings on Star Wars, video games and dogs.
Craig McLuckie - @cmcluck
Followers: 1,100+
Craig McLuckie is a group product manager at Google who focuses on OpenStack products and developments. His feed is a good mix of his own commentary, article sharing and live conference Tweeting. He gives presentations about Google's use of virtual containers and has become a general expert of this sector of the tech industry.
Followers: 2,350+
A long time technology journalist, Libby Clark is now a digital content editor at the Linux Foundation. This positions her to share the best stories and news about containers and open source. She integrates a good mix of her own experiences, Linux stories and other relevant news into her feed.
Followers: 1,265+
Even his Twitter bio says it all, Anthony Chow is passionate about OpenStack and DevOps. He is a senior network engineer at Alcatel-Lucent, a telecommunications product company. He is also a VMware expert and fosters interesting, personal and lively Twitter conversations. Beyond his expert knowledge, his personality comes out and his love of his industry is very clear.
Followers: 5,620+
Michael Hausenblas is a developer and cloud advocate at Mesosphere, an open source platform for running containers. He is a leading authority on the subject as he has written a book about container management and keeps up-to-date with cutting-edge advancements in the industry. His Tweets promote these advancements and support other professionals working with containers.
Followers: 400+
Although Mark Chamberlain has less followers than the average influencer, he is a master of social strategy in the container and cloud space. As the VP of Infrastructure & Operations Architecture and Distributed Services at ADP, Mark is following and sharing how technology is influencing the financial industry. With this unique perspective, Mark focuses on development, open source and cloud solutions.
Followers: 5,575+
Andrew Vest is Director of Business Development of App Modernization & Cloud Services at Redapt, a data center infrastructure solution provider. He is an active Twitter user sharing the latest about containers and DevOps with a side of personality. He's always posting his experiences at conferences and with his work.
Followers: 1,545+
This former Google and VMware employee is now the co-founder and CTO of Sync Ninja, a micro-services platform for enterprises. His past experience and current journey of being an entrepreneur give him the authority to post and share about advancements and think pieces on DevOps and containers.
Followers: 10,100+
Although not a person, this company is a great example of B2B social media that anyone interested in the technology industry should be following. The hosting and connectivity service company covers an important and wide range of topics.
Followers: 8,685+
Jeremy Likness is an app development director at iVision, a technology integration and management firm. While his job isn't directly related to virtual containers, Jeremy is a pro at using hashtags, discussing the software industry and engaging with his followers. Even if you are looking for more specific social conversation, Jeremy is a good source to emulate in your own Twitter strategy.
Followers: 405+
I'd be remiss to not mention our Twitter feed, which we pride ourselves on providing a good combination of humor, updates and important container news. I hope you'll follow us as we expand our Twitter network, create conversation and explore this exciting industry further.
Who do you follow on Twitter that you find valuable and informative? Let me know in the comments below.

Rani Osnat
Rani is the SVP of Strategy at Aqua. Rani has worked in enterprise software companies more than 25 years, spanning project management, product management and marketing, including a decade as VP of marketing for innovative startups in the cyber-security and cloud arenas. Previously Rani was also a management consultant in the London office of Booz & Co. He holds an MBA from INSEAD in Fontainebleau, France. Rani is an avid wine geek, and a slightly less avid painter and electronic music composer.