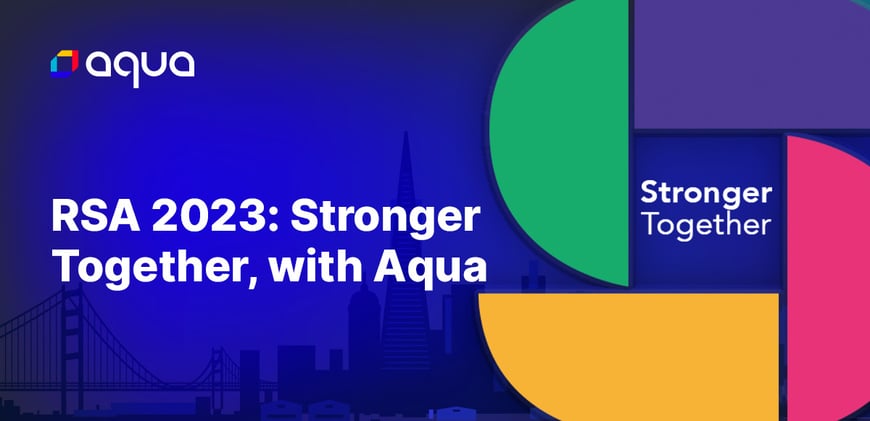 RSA 2023: Stronger Together, with Aqua
Right now, you can only see half of what is going on in your cloud. Do you want to see the other half? At RSA this year we are going to show you how Aqua's single platform provides real-time visibility and better prioritization for your cloud, so you see more and do less.
Working together across cloud native applications, we quickly detect, prioritize and mitigate the cloud security risks others do not see. We think this ties nicely into the RSA theme: Stronger Together.
At Aqua, our vision to become more secure together is what we have done from day one. Our community contributions span technology, research and pioneering innovation. We have a team of dedicated cloud native researchers, Aqua Nautilus. We have built the largest and most loved open source cloud native security portfolio in the world with Tracee and Trivy. And we have built one integrated platform to bring it all together and allow you to see everything in your cloud environment.
As RSA approaches, we look forward to another opportunity to become stronger, together. Want to learn how to gain real time 100% visibility in your cloud native applications? Engage with the Aqua team at these opportunities throughout the show.
See what others don't, Stop what others can't
Being stronger together requires leadership, and the road to being a leader in the cloud native security space is more than just providing visibility into threats or building features to address security attacks. It requires a holistic vision, one that connects the dots from education and research to commercial innovation. Creating one platform to identify, prevent, remediate and provide actionable recommendations that stop attacks and dispense value across the cloud ecosystem in real-time.
CNAPP, Cloud Native Application Protection Platform, a term coined by Gartner, has been taking center stage in cloud security (and we expect to see a lot of continued hype at RSA). But what is a true CNAPP? If we look to Gartner's recently published Market Guide, they describe CNAPPs as "offerings that bring together multiple disparate security and protection capabilities into a single platform, focused on identifying and prioritizing excessive risk of the entire cloud-native application and its associated infrastructure."
Simply put, a CNAPP is stronger together. We agree.
Aqua's security platform is the industry's first unified CNAPP, featuring intelligence-driven cloud native detection and response capabilities. Aqua secures customers' cloud native assets from day one. But most importantly it protects in real time. In other words, cloud native security is better when it is integrated across the development lifecycle, from software supply chain and scanning in real time to complete runtime cloud security. This is what differentiates us from others in this space: we see what others don't and stop what others can't. See it for yourself at our booth in the South Expo Hall, number 1627
Breakthrough research sessions at RSA
Complexity inhibits effective cybersecurity and there are a lot of complexities around cloud native security. As the adoption of cloud native technologies continues to rise, and the workloads more complex, our cyber security research team continues to provide actions and insight to the latest threats. Aqua Nautilus works on finding vulnerabilities and securing environments. Some of the most recent cutting-edge findings have earned their place on the RSA stage.
On Wednesday, April 26 at 2:25 PM, Idan Revivo, vice president of research, and Asaf Eitani, security researcher, from the Aqua Nautilus team will discuss eBPF Warfare - Detecting Kernel & eBPF Rootkits with Tracee. Attendees will learn about the different types of rootkits, their attack flow, how they operate and how to detect them. Lastly, they will learn how to use Tracee, an open-source tool harnessing eBPF to detect those threats and gain an advantage on the attackers.
Then on Thursday, April 27 at 1:00 PM, Ilay Goldman and Yakir Kadkoda, both Aqua Nautilus security researchers, will present Exploiting Vulnerabilities and Flaws to Attack Supply Chain where they will present on the vulnerable platforms that reside in the supply chain ecosystem and are trusted by many developers. The presentation will show how the platforms can be exploited by attackers and will elaborate on the many attack vectors including integrated development environment (IDE), source code management (SCM), package managers and CI/CD.
Don't settle for less than real-time security
Cloud Native attacks happen in seconds, across environments and are designed specifically to evade detection. Real-time visibility ensures you have a complete view of exactly what is going on within your environment and provides deeper, more contextualized insights so that you can operationalize and act on findings, eliminate the manual task of sifting through mounting alerts and remediate cloud security risk, faster.
There is a lot for us to share, so we will say it again! Stop by our booth in the South Expo Hall, number 1627, and see real-time Cloud Native Security for yourself. Our demonstrations will show how Aqua stops cloud native attacks with intelligence-driven cloud native detection and response capabilities, in real time. Chat with our researchers, solution engineers, and senior executives, discover the vision they have for the Aqua platform and get a sneak peek into what's ahead on our product roadmap. While there, grab yourself a bag of "real-time" popcorn and enjoy it while attending one of our in-booth sessions (see list of session names and times below). Added bonus: those attending the session will receive a ticket to be entered into our raffle to win a Back to the Future Lego set at the end of the session.
The cloud native security space is evolving quickly and demands a better together approach We can't wait to share ours with you.
Will see you at RSA!
Sessions at Aqua booth:
Monday, 4/24:
5:45-5:55 PM: Aqua demo: Latest in CSPM – Benjy Portnoy, VP, Global Solution Architects
Tuesday, 4/25:
12:45-1:00 PM: Security from code to cluster: How Aqua manages risk and stops attacks – Tsvi Korren, Field CTO
3:30-3:45 PM: HeadCrab – The story of a novel Redis malware – Asaf Eitani, Security Researcher & Idan Revivo, VP, Cyber Security Research
4:45-5:00 PM: A true CNAPP: From dev to cloud and back – Nurit Bielorai, Sales and Partnerships Manager
Wednesday, 4/26:
10:30-10:45 AM: Driving value from confusion: Transform alert fatigue into business efficiency using Aqua & ServiceNow – Farhan Mohsin, Solution Architect & Akhila Managoli, ServiceNow
2:30-2:45 PM: A cloud native approach to zero-trust – Kashif Zaidi, Director, NA Solution Architects & Dudi Matot, AWS
4:45-5:00 PM: CorePlague: Severe vulnerabilities in Jenkins server lead to RCE - Ilay Goldman, Security Researcher & Yakir Kadkoda, Lead Security Researcher
Thursday, 4/27:
10:30-10:45 AM: Getting more from your SBOM: Application provenance and attestation – Nurit Bielorai, Sales and Partnerships Manage

Matt Richards
Matt is the Chief Marketing Officer at Aqua Security. Prior to Aqua, he was the CMO of Datto where he helped grow the company from late-stage startup through a successful IPO in October 2020. Before Datto he served as the VP of Products and Markets at ownCloud from 2012 to 2016. He previously held management positions at CA Technologies, Novell, and IBM. Richards earned bachelor's degrees in mechanical engineering and engineering sciences from Dartmouth College and earned his MBA from the MIT Sloan School of Management.