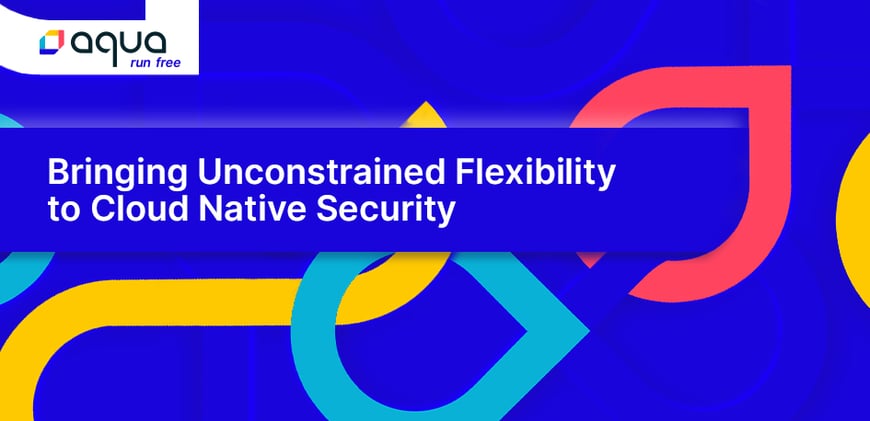 Bringing Unconstrained Flexibility to Cloud Native Security
In the four short years since we launched Aqua and started our cloud native journey, we have all experienced dramatic change. During this time, we brought several new products to market. We witnessed the rise of Docker, then its decline. We recognized the growing popularity of Kubernetes and pivoted our capabilities to match. As cloud native expanded beyond containers to include serverless and VM security – we were there. And the continuing digital transformation in public clouds, private clouds, hybrid clouds, and on-prem datacenters? Bring it on.
"...there was an opportunity
to do security better"
To stay ahead of these changes, we accelerated the development of cloud native technologies and increased the number of use cases we support. We also realized there was an opportunity to do security better and leveraged cloud native capabilities to apply modern security principles. To that end, we are announcing our complete cloud native application protection platform, which has an even broader, more robust, and more integrated set of capabilities. It brings Cloud Workload Protection Platforms (CWPP), Cloud Security Posture Management (CSPM), and DevSecOps seamlessly together.
We are redefining what it means to be a cloud native security company – with a critical focus on freeing your developers and allowing our customers to run with minimal security constraints.
Solving Forward
So, how did the industry manage all this change? Initially, since the market was immature, most security teams simply cobbled together different point solutions to solve specific security issues. But as the market continues to mature, it's becoming clear that companies are making hybrid environments a strategic choice – with distinct technology stacks, various orchestration platforms, multiple public/private clouds, and more. Unfortunately for them, the overhead needed to implement a different security solution for each, and every situation is untenable.
Working closely with our customers as their own thinking evolved, we set a goal to build and maintain a singular security platform with one set of common controls using a high degree of automation across virtually everything. We recognize that not all customers are created equal, and while some are capable of standing up their own infrastructure and in-house staff to run all aspects of a large-scale security platform, others need an automated, less "involved" solution that they can more easily employ.
The Journey to Now
When we started, this market was new for customers and us as well. But along the way, we grew in knowledge, customers, and product offerings, as we have more than doubled in size each year and now serve over 500 enterprise customers.
"...we believe strongly that we can only succeed
if the entire industry succeeds"
However, it has never been just about us, as we believe strongly that we can only succeed if the entire industry succeeds, so we actively contribute to the CNCF, drive class-leading open source initiatives, and provide cloud-native security thought leadership.
While some security companies got acquired, and others continued focusing solely on containers, we at Aqua remained steadfast in our determination to create the best cloud native solutions for our customers. In fact, we now find ourselves in the enviable position of being the largest pure-play cloud native security vendor, with unparalleled expertise and security capabilities.
In the past year, we expanded our portfolio further through the acquisition of CloudSploit (now Aqua CSPM), adding a substantial new layer of cloud infrastructure security. As leading analysts at Gartner recommend, we provide a dynamic CWPP/CSPM security platform covering cloud native build artifacts, infrastructures, and workloads. Although no longer a small startup, we are still more than agile enough to pivot as requirements change and are unburdened by legacy products. This combination allows us to compete very effectively with larger incumbents.
The Future Begins Today
As an organization, Aqua Security has always been defined by a singular purpose – to enable enterprises to secure their cloud-native applications from development to production, accelerating application deployment, and bridging the gap between DevOps and IT security – that hasn't changed. But sometimes innovation isn't just about the solution you provide, it's also in the way you package and deliver it; so we're also announcing our solution delivered either as a managed service (SaaS) or on-prem (self-hosted). No doubt you've also noticed the new look of our website – this reflects our continued evolution and commitment to our customers.
As the move to the cloud continues to accelerate, industry is demanding flexibility. The days of being locked into one cloud or one service are gone, now you can run your business wherever you want. At Aqua, we want you to run free without constraints. Free to develop faster, free from worry about vulnerabilities or bad actors. Free to build differentiation for your business and value for your customers.
And all this freedom is easier to get than you might think. Run free with Aqua Security.

Dror Davidoff
Dror is the Co-Founder and CEO at Aqua. Dror has more than 20 years of experience in sales management, marketing, and business development in the enterprise software space. He has held executive positions at several emerging IT security and analytics companies. Before co-founding Aqua in 2015, he headed up global sales of Database Security Products at McAfee (Intel Security), and prior to that was EVP of Sales and Business Development at Sentrigo where he led its fast market share increase. Dror holds an MBA in Finance from City University of New York and a BA in Economics. He likes to start his day with an early morning swim in the Mediterranean.