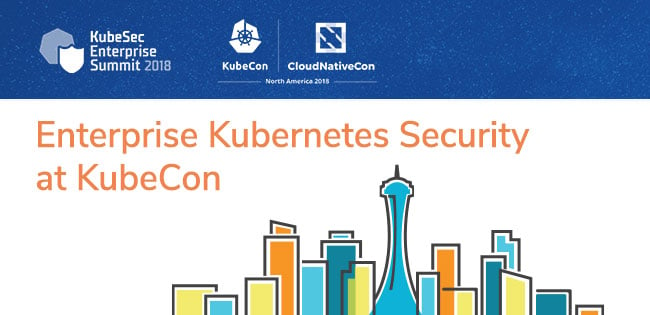 Enterprise Kubernetes Security at KubeCon + CloudNativeCon
KubeCon + CloudNativeCon North America is just around the corner, and looks like it is going to break attendance records, becoming the largest gathering of the Kubernetes and cloud native community ever!
Such massive adoption by large organizations in their production deployments, brings with it security and compliance requirements. So much so, that we felt it's worthy of its own co-located event – KubeSec Enterprise Summit 2018 – the very first security event dedicated to securing Kubernetes environments, hosted by Aqua Security and our partners Amazon and Red Hat. We have put together an amazing agenda, with experts from end-user organizations, service providers, vendors and industry analysts.
Here's the must-attend list of Kubernetes and Cloud Native security sessions and talks:
KubeSec Enterprise Summit

Whether you are just now beginning to roll out your first production implementation of Kubernetes, or are an early adopter looking to learn from the experience of your peers, you are sure to get valuable insights from this educational event.
Co-hosted by Aqua Security, Amazon Web Services (AWS) and Red Hat, the day will provide a unique opportunity to hear from others who have already deployed Kubernetes to support highly secure solutions, as well as a range industry & technology experts in securing cloud-native applications. End-users speaking at KubeSec Enterprise summit include: JPMorgan Chase, Starbucks, and Tinder. We also have a great lineup of keynotes, including a session from Amy DeMartine, an industry analyst with Forrester.
Check out the full KubeSec Enterprise Summit agenda ›
When: Registration kickstarts Monday, December 10 at 9:00 am
Where: Washington State Convention Center.

Registration for KubeSec Enterprise Summit ›
Note that this is a KubeCon co-located event, you must be registered for KubeCon to attend.
KubeCon + CloudNativeCon
Meet Aqua Security
Make sure to come by the Aqua Security booth #G14 during KubeCon to meet with the Aqua Security team, and learn all about our security solutions for kubernetes, containers & cloud-native apps.
When: Sponsor showcase hours – Tuesday, December 11th – Thursday, December 13th
Where: Booth #G14, KubeCon Sponsor Showcase located in Washington State Convention Center
Aqua Security KubeCon Sessions
Keynote: Opening, Welcome, and Closing Remarks
Tuesday, December 11
9:00 am - 6:37 pm
Who: Liz Rice, Technology Evangelist, Aqua Security
Where: Hall 4EF
Keynote: Welcome, Speaker, and Closing Remarks
Wednesday, December 12
9:00 am – 10:18 am
Who: Liz Rice, Technology Evangelist, Aqua Security
Where: Hall 4EF
Keynote: Closing Remarks
Thursday, December 13
10:18 am – 10:20 am
Who: Liz Rice, Technology Evangelist, Aqua Security
Where: Hall 4EF
Runtime: Getting Your Hands "Dirty" in Container Sandbox
Thursday, December 13
11:40 am – 12:15 pm
Who: Ariel Shuper, Sr. Director Product Management, Aqua Security
Where: 4C 1/2
Birds of a Feather: KubeCon + CloudNativeCon - How Can We Improve the Conference
Thursday, December 13
3:40 pm – 4:15 pm
Who: Liz Rice, Aqua Security, Janet Kuo, Google, & Dee Kumar, CNCF
Location: 615-617
Connect With Us!
If you are attending, make sure to get the most out of the experience by attending KubeSec Enterprise Summit.
Note the full KubeCon + CloudNative Con 2018 show schedule.
Won't be able to make the event? Follow us on Facebook, Twitter, and LinkedIn for live updates throughout the event.

Andy Feit
As Aqua's VP of Go-to-Market, Andy brings more than 25 years of marketing experience in the security and IT markets to Aqua. Prior to joining Aqua in early 2018, Andy held the position of Head of Threat Prevention Product Marketing at Check Point Software Technologies. Previously, he was responsible for Risk and Compliance Marketing with McAfee / Intel Security, following the acquisition of database security leader Sentrigo.