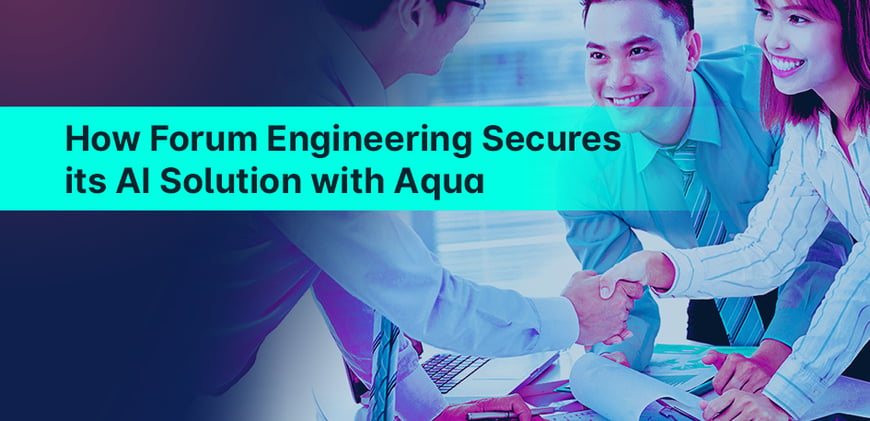 How Forum Engineering Secures its AI Solution with Aqua
Digital transformation is fundamentally changing how organizations compete and engage with customers, even redefining traditional labor-intensive industries. A great example of this is Forum Engineering, a staffing company from Japan, which developed an AI-based Software-as-a-Service solution to stay ahead of the competition. The challenges of securing this innovative offering required a platform that can protect the company's applications both during development and at runtime.
Investing in digital transformation initiatives
Forum Engineering is one of the largest temporary engineering staffing companies in Japan, with 5,000 employees. It places IT professionals in a wide variety of jobs throughout the country. It wanted to streamline its operations and reduce the human touch it had relied on, deciding to invest in information and communication technologies and artificial intelligence capabilities – unusual for the normally labor-intensive staffing industry.
In 2018, it developed its Software-as-a-Service solution, Cognavi Talent Management, which uses AI to evaluate candidate attributes based on relevant criteria, including experience, preferred length of deployment, areas of expertise, and more. This enables fast and accurate recommendations and improves the skill sufficiency rate during staffing selection. At the same time, it reduces the need for human-dependent touchpoints, which can introduce potential points of failure and delay staffing workflows.
With a product concept firmly established, Forum Engineering turned its focus to choosing the best platform on which to deploy it, with a keen eye on scalability and flexibility.
Establishing flexible, reliable security in AWS environments
Forum Engineering decided to adopt AWS Fargate for the configuration and management of its containerized solution. This let Forum Engineering quickly scale its number of client users and eliminate the costly operation and management of servers. With the help of Cresco Co. Ltd., which integrated the system, Forum Engineering deployed 130 containers for the cloud native AWS deployment. This decision allowed Forum Engineering to focus on maximizing the performance of the solution rather than maintenance of the environment.
Securing business-critical cloud resources with Aqua Security
Forum Engineering knew that the large cloud native deployment could meet the company's need for scalability, portability, and growth. But it also knew that securing its SaaS application, and the cloud in which it is deployed, was as important as the application's capabilities. To achieve this, stakeholders at Forum Engineering and Cresco established a list of requirements to support security during development and at runtime, leading them to choose Aqua Security to help secure its new offering.
Aqua enables Forum Engineering to detect misconfigurations in cloud accounts, container image vulnerabilities, and threats caused by malware. Aqua scans images at build, as well as at scheduled intervals to ensure consistent security risk awareness for emerging threats. If Aqua detects an issue, it sends an alert through its security console to the operations administrator so prioritization and remediation steps can be taken before a small issue becomes a big problem.
To enhance security at runtime, Aqua enforces least-privilege requirements for processes required for container operations. This minimizes or mitigates risks in production environments, including unauthorized image deployment, malicious code execution, image tampering, sensitive data leakage, and more.
Cloud native security without impeding operations
Forum Engineering's shift from a solution based on labor-intensive, manual operations to an AI-powered SaaS solution based on containerized architectures has given it a competitive edge among staffing agencies. Having established cloud native security best practices with Aqua – during development, in runtime, and across cloud accounts – it is now focusing on expanding the capabilities of its Cognavi solution. Forum Engineering plans to continue to use the Aqua platform for its evolving security needs, citing the level of control, security visibility, and peace of mind afforded by Aqua as a catalyst to maximizing the potential of its services.
Read the complete Forum Engineering case study to learn more about how Forum Engineering secures its SaaS solution with Aqua.

Steven Zimmerman
Steven Zimmerman is a Sr. Product Marketing Manager at Aqua Security, specializing in vulnerability management and dynamic threat analysis. He is focused on deriving a clear vision for efficient DevSecOps among the world's leading enterprises and organizations adopting security best practices across their cloud native application ecosystem.