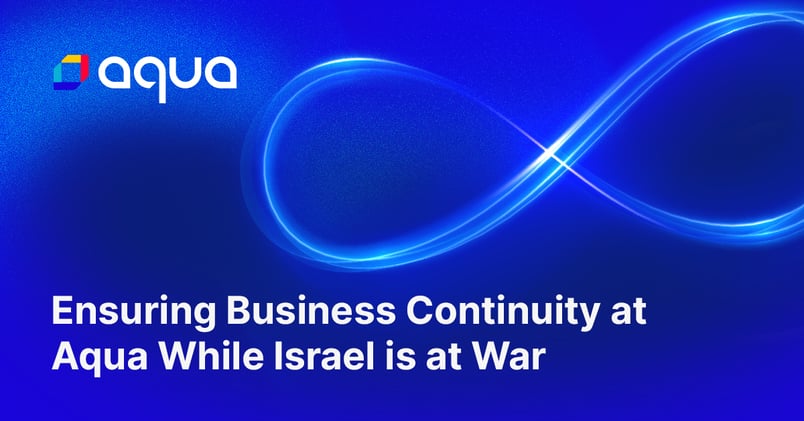 Ensuring Business Continuity at Aqua While Israel is at War
In a world fraught with uncertainties, global companies must be prepared to ensure continuity of operations, particularly in the face of the unexpected. With locations in the US, Israel, Singapore, India, Australia and London, we understand the importance of robust business continuity planning. Following the brutal attack of Hamas terrorists on Israeli citizens early last week, we have taken steps to maintain our services and support our customers and partners without interruption.
While we were founded in Israel, and some of our core engineering center is in Israel, we have distributed technical and support resources around the world and Business Continuity Procedures (BCP) to handle precisely this kind of situation. All our customers have already been informed about the steps we have taken to ensure the continuity of our services. The purpose of this blog is to provide additional details to partners, colleagues and friends.
The following are the key components that support our BCP
Cloud-Enabled Data Centers
All our data centers are hosted in the cloud, including the US and other locations around the world. They serve our engineering, SRE, support, and all other business functions. This strategic decision has proven invaluable during times of crisis. Cloud-based infrastructure allows us to swiftly redirect traffic and resources as needed, ensuring minimal downtime for our services.
Diverse Global Operations
Our global presence has always been one of our strengths. With offices spread across different regions, we can tap into the expertise and resources of diverse talent pools. This diversity also works as an advantage in business continuity planning.
24/7 Customer Support
Our commitment to providing round-the-clock customer support remains. Our 24/7 customer support operations are powered by a remote team dispersed around the globe. This approach ensures that our customers receive uninterrupted assistance, regardless of the situation on the ground in any one location.
Customer Services
All our customer services including Account Management, Customer Success, Architecture, Education and Professional Services are situated in proximity to our customers in the regions. All functions continue to operate normally.
Built-In Disaster Recovery for Resilience
Our products are designed with resiliency and redundancy in mind. They employ techniques like data replication, load balancing, and failover mechanisms, reducing the impact of disruptions and minimizing data loss. This resiliency is a critical aspect of business continuity during wartime.
Effective Communication
Effective communication is at the heart of any successful business continuity plan. We have implemented robust communication protocols to keep our customers and all team members informed and coordinated during times of crisis. Regular updates and drills ensure that everyone knows their role in maintaining operations.
Data Security and Compliance for Sensitive Environments
In times of war, the security of data becomes even more critical. We leverage the robust security features and compliance certifications offered by our cloud providers. We can adapt to evolving security threats and meet stringent regulatory requirements, ensuring that sensitive data remains secure. For example, we use the Aqua platform to monitor and protect our sensitive environments from cloud native attacks. Our security and operations teams join forces for event management in case of a security attack.
Remote Work Readiness for Distributed Operations
COVID taught us a lot about how to enable remote work. As standard practice, employees are provided with ample remote work equipment, and work remotely 1 day a week. In times of conflict, we are prepared to rely on fully remote work to ensure the safety of our employees. Further, our cloud-native model facilitates remote work by enabling employees secure access to applications and data from anywhere. This flexibility is a significant asset for maintaining operations when physical office spaces may be compromised.
Rapid Recovery in Crisis Scenarios
Should we face disruptions caused by the war, as a cloud native company, we are equipped for rapid recovery. We can restore data and services quickly, reducing the time it takes to return to normal operations and minimizing the impact of unforeseen events. We have implemented robust data backup and recovery procedures to ensure data integrity and availability. We regularly test data recovery processes to confirm their effectiveness. Our process includes automatic full and incremental backups, AWS RDS managed service and dedicated EKS clusters for each customer. RDS backup happens every day and we have recovery plan in place with the ability to restore data to within 5-minute intervals.
Final Thoughts
While we hoped never to have to write a blog on our continuity practices in times of war, this is the point of a business continuity plan: to prepare for the unexpected. With cloud-enabled data centers, a global presence, 24/7 customer support, built-in disaster recovery measures, robust communication protocols, and efficient automation, our preparations have been tested and proven effective. Further, Aqua's technology is proving to be a game-changer for us, offering a competitive edge and ensuring secure business operations. Our mission is unwavering: we secure your critical environments in the cloud and on prem.

Israel has faced tough times before, and we've always prevailed. We are strong, and we are resilient, and we will stand with our Aquarians and their families to support them during these painful and difficult times. The foundation of Aqua's success is our commitment and care for our team, our customers, our partners, and our communities. This will never change.

Dror

Dror Davidoff
Dror is the Co-Founder and CEO at Aqua. Dror has more than 20 years of experience in sales management, marketing, and business development in the enterprise software space. He has held executive positions at several emerging IT security and analytics companies. Before co-founding Aqua in 2015, he headed up global sales of Database Security Products at McAfee (Intel Security), and prior to that was EVP of Sales and Business Development at Sentrigo where he led its fast market share increase. Dror holds an MBA in Finance from City University of New York and a BA in Economics. He likes to start his day with an early morning swim in the Mediterranean.