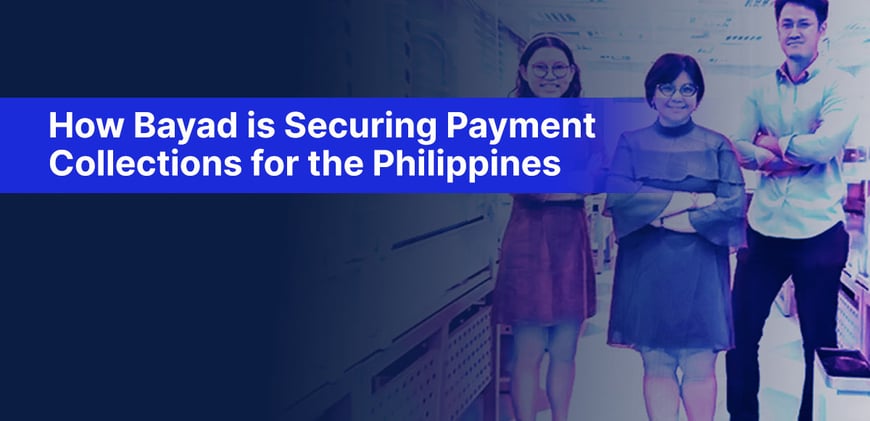 How Bayad is Securing Payment Collections for the Philippines
Digital innovation in the finance sector is an incredibly stressful proposition. The terms digital wallet and GDPR both fit into the same sentence; however, even this heavily regulated segment must turn to digital transformation to stay competitive and keep customers loyal. Enter Bayad, the largest multi-channel payment platform in the Philippines, and the country's pioneer in outsourced payment collection.
Bayad (CIS Bayad Center, Inc.) offers its clients a range of solutions highlighting bill collections, bill payment, a digital wallet platform, and biller aggregator services. Bayad's differentiators are:
Heightened protection of customer sensitive data (PII and assets)
Customer-centric solutions availability
Meeting stringent compliance standards in the highly regulated financial sector
Bayad leadership invested in a shift-to-cloud strategy to enable their digital transformation goals. This strategic shift would enable the agility, scalability, and resilience of key, strategic application offerings that are core to the company's DNA.
To maintain their advantage, Bayad needed a partner who could provide prevention, detection, and the response automation needed across their entire solutions lifecycle; ensuring Bayad could safely and securely continue to offer the payment innovation that their customers demanded. After the rigorous evaluation and selection process, Bayad found this partner in Aqua.
Gefura Inc., a solutions distributor for network and security, is a trusted provider for Bayad and an Aqua Security partner since 2020. The Gefura team recognized that Aqua Security could solve Bayad's security and compliance challenges and worked with Bayad to integrate and deploy Aqua's platform.
Tackling security to stay competitive
Continuous visibility was a key component to ensure Bayad stakeholders had a lens into the risk posture and compliance status during the development and production phases. Visibility of artifacts, running applications, and the overall cloud environment were key areas that Aqua could contextualize for Bayad.
Comprehensive, continual scanning and categorization combined with an "easy to use" unified dashboard allowed Bayad stakeholders to have a breath of visibility across the innovation lifecycle, which enabled better informed, faster decision making by Bayad leadership.
Risk management through orchestrated detection and prioritization were critical in areas of 1) information leakage across the application and cloud ecosystem and 2) immense data management across more than a thousand functions.
With Aqua in the mix, the Bayad team could assess security risks in their CI/CD pipelines before applications got pushed into production. This included detecting and remediating vulnerabilities in container images and serverless functions, security misconfigurations in cloud environments, and the presence of hidden secrets and sensitive data in application artifacts.
" Using the Aqua solution has helped prevent potential exposure of sensitive information, credentials, and keys that could have led to account takeover and system compromise." - Lawrence Ferrer, President and CEO, Bayad

Share on Twitter
Additionally, through the implementation of proper security controls that supported automation, immense amounts of data and workflows could be scanned, categorized, and if appropriate, properly addressed through timesaving, scalable automation.
Compliance in the finance sector is particularly stringent, topping off as one of the top three regulated segments. Some of the regulatory standards that Bayad needed to address were GDPR, PSD2, unique compliance requirements of the Banko Sentral ng Pilipinas (Central Bank), and finally PCI-DSS certification completion.
With Aqua's help, Bayad implemented security industry best practices and processes such as principles of least privilege for identity and access control, detecting anomalies at runtime and hardening cloud infrastructure using risk-based insights (vulnerability prioritization and triage) and flexible security policies with audit/enforce modes.
Bayad now maintains a proactive strategy that meets compliance body requirements but doesn't inhibit the availability or innovation that customers expect.
To learn more about how Aqua is helping Bayad secure its digital transformation in the payment sector, read the full case study.

Pamela Cheong
Pamela is the Director of Marketing for the Asia-Pacific region at Aqua and is based in Singapore. She has more than 20 years of B2B experience in the IT industry and deep expertise in enterprise technology. Prior to Aqua, Pamela worked in various marketing roles at global tech companies, including SAP, EMC, Hewlett-Packard, Intel, and CyberArk. She is passionate about sharing cybersecurity knowledge among SMB companies and local communities. In her free time, Pamela enjoys practicing Ikebana, the Japanese art of flower arrangement, playing drums, reading, and traveling.