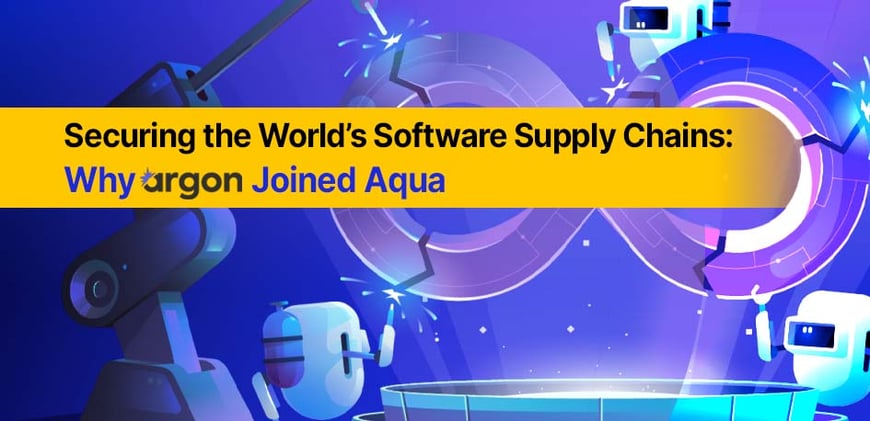 Securing the World's Software Supply Chains: Why Argon Joined Aqua
Last year, Argon set out on an exciting mission to solve one of the industry's most urgent problems: secure the way companies build and release software. Today, we're thrilled to hit another milestone on this journey as we join forces with Aqua Security, the well-known leader in cloud native security. This extraordinary accomplishment not only validates our vision, strategy, and execution to date, it also signifies the burning customer need to secure the crucial piece of today's application development – the software build and release pipeline itself.
Rising to the software supply chain security challenges: The Argon story
In the past year, we all witnessed the severity of the software supply chain threat, demonstrated on a massive scale by the insidious attacks on SolarWinds and then Codecov. As adversaries are increasingly looking to plant malicious code into trusted software that makes up organizations' supply chains, tools used by developers as part of their CI/CD pipelines have become a prime target. But why are our development environments so vulnerable?
Although high-velocity CI/CD pipelines are the backbone of modern software development, it's striking how little security attention they get. In traditional security architectures, production gets a lot of attention, with multiple layers of tools and processes to secure runtime. Development environments, on the other hand, have not historically been scrutinized in the same way.
Add the high degree of automation and frequent code updates in CI/CD, and malicious actors get plenty of opportunities to abuse the process. As enterprises around the world are accelerating their digital transformation initiatives on a crazy scale, securing the software delivery process is paramount.
That's why we started Argon.
Over the last year, we have built a strong team of 30 top professionals, partnered with dozens of customers, and reached agreements with many distributors. They all deeply believe in our vision – to provide organizations with a practical and simple solution to prevent code manipulation and secure their software supply chain.
As we open a new chapter for Argon, we'd like to share some thoughts on why we're joining Aqua and what we aim to accomplish.
Shared vision for full life cycle security
While getting to know Aqua, it was clear from the get-go that our visions perfectly aligned. Given the nature of modern software practices, we both believe that only a holistic approach can enable organizations to securely build, ship, and run their cloud native applications. Security must span the entire DevOps pipeline, from code through build to runtime, and ensure the end-to-end integrity of the artifacts.
By joining our forces, we aim to make it easier for customers to benefit from a unified end-to-end security solution for the cloud native world while expanding their security coverage against this continuously evolving attack vector.
The same cultural DNA
As innovative technology companies, Aqua and Argon are a perfect DNA match. On top of hands-on security, cloud native expertise and top-notch developments skills, we both share a similar culture and values that encourage innovation and personal growth. In addition, we've built Argon in a very similar way to Aqua — from the ground up, growing the company step by step, with a pure-play approach.
Therefore, we know there will be strong chemistry between our teams. The people at Argon are what makes it so special. Not only are they professionals at what they do but they're also deeply passionate about our mission. A lot of the technology innovation at Argon is driven by the people themselves.
The same is true for Aqua. Its culture is second to none, with innovation and original thinking at its core. In fact, most commercial products at Aqua are based on cutting-edge open source and threat research innovation.
Backed industry leadership
Aqua is a fast-growing cyber unicorn in a booming cloud security market, trusted by hundreds of enterprise customers across many verticals globally – including more than 25% of the Fortune 100 and five of the ten largest banks. For Argon, this represents a huge opportunity to help protect the software supply chain of some of the world's leading organizations as well as many others to come.
By becoming part of an established market leader like Aqua, we're acquiring a true partner to accelerate innovation and extend our market reach, as we bring software supply chain security to more organizations around the world.
Stay tuned for more
The Argon story has been wildly rewarding thus far, and in many ways it's just the beginning. We want to say a huge thank you to the many people who helped make it happen: the amazing Argon team as well as our customers, partners, and investors who have supported us along the way. None of this would have been possible without you.
Now as an Aqua company, we're ready to take on the broader mission to build together the most integrated security platform across the entire software development life cycle while helping enterprises drive their ongoing digital transformation.
Big things are coming soon, so stay tuned!

Eilon Elhadad
Eilon is the Sr. Director, Software Supply Chain Security at Aqua Security. He was formerly CEO and Co-Founder of Argon Security, a company acquired by Aqua in 2021. Prior to founding Argon, he served in the elite 8200 Unit in the Israeli Intelligence Corps where he led development projects in defensive cybersecurity and targeted cyber threats. He was responsible for the R&D of the cybersecurity unit and finished his service with the rank of Captain. He holds a B.Sc. and M.Sc. in computer science and is a graduate of Mamram. When he is not working, he enjoys spending time with his friends and playing sports.