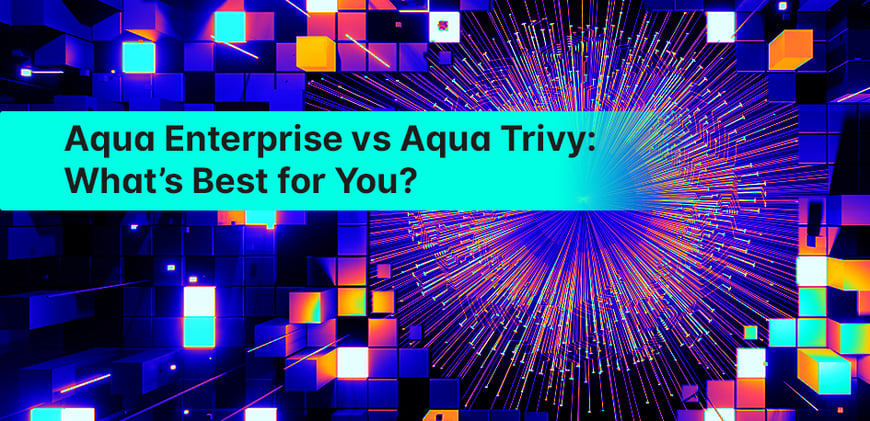 Aqua Enterprise vs Aqua Trivy: What's Best for You?
Anyone looking to improve the security posture of their cloud native applications knows that a vulnerability scanner is an important tool to add to the toolkit. Automating vulnerability scanning into your build pipeline can reduce the likelihood of successful attacks and help protect your containerized workloads. There are many scanning tools available today, both open source and proprietary. How do you choose which tool is right for you?
We created a useful checklist that compares vulnerability scanning with Aqua Trivy, an open source tool, and Aqua Enterprise, a commercial platform, and can guide you in selecting the best option for you.
When to use Aqua Trivy
Aqua Trivy is a popular open source vulnerability scanner that helps teams "shift left" to incorporate security into the build pipeline. As an open source project, Trivy is widely used: Harbor, GitLab, and Artifact Hub all use it as their default scanner. Because Aqua Trivy doesn't require middleware or have a database dependency, you can get up and running quickly with it. And because Aqua Trivy fetches vulnerability data faster than alternative vulnerability scanners, users can also scan quickly.
Aqua Trivy is likely to be a great option for you if you need a quick, easy scanning tool for applications that aren't business-critical or if you'll be working with less complex, less distributed architectures.
See how quick and easy it is to get up and running with Trivy:
When do you need an enterprise solution?
Aqua Enterprise also performs vulnerability scanning – but as part of a broader, holistic, full lifecycle cloud native security offering. In addition to scanning for vulnerabilities, it also offers such enterprise-grade capabilities as lower management overhead for complex environments, broad security coverage, support for specific enterprise needs, continuous protection into runtime, and more.
Lower management overhead for complex environments
Although it's possible to build out capabilities based on an open source vulnerability scanner, the time and effort involved can be prohibitive. Aqua Enterprise significantly reduces the time needed to visualize data, get actionable results, integrate with other solutions, and gain full life cycle security. It provides scalable, holistic security for cloud native business-critical applications.
See here the difference with the commercial UI, showing multiple image scans: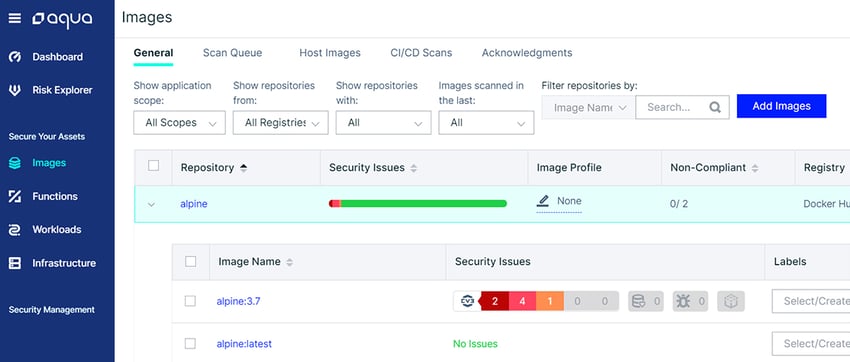 Therefore, Aqua Enterprise is ideal when you have a complex build pipeline that spans multiple registries and developer teams, or you're concerned about management overhead of an entire suite of security tools. Also, if you're looking to secure proprietary, business-critical applications and you want to be able to integrate scanning and remediation results with your SIEM and project management tools, Aqua Enterprise will suit your needs.
Broad security coverage
Modern attacks are multi-dimensional, making them hard to prevent by looking for just one tactic. Compared with Aqua Trivy, Aqua Enterprise offers broader coverage for detecting vulnerabilities and can scan for a wider array of threats, including hidden malware and supply chain attacks.
You should consider Aqua Enterprise if you're using a lot of images that come from third parties or public libraries and you want to make sure the images in your CI/CD pipeline are clean from threats other than vulnerabilities.
See here all of the scanning options for Aqua Enterprise across the top of the toolbar: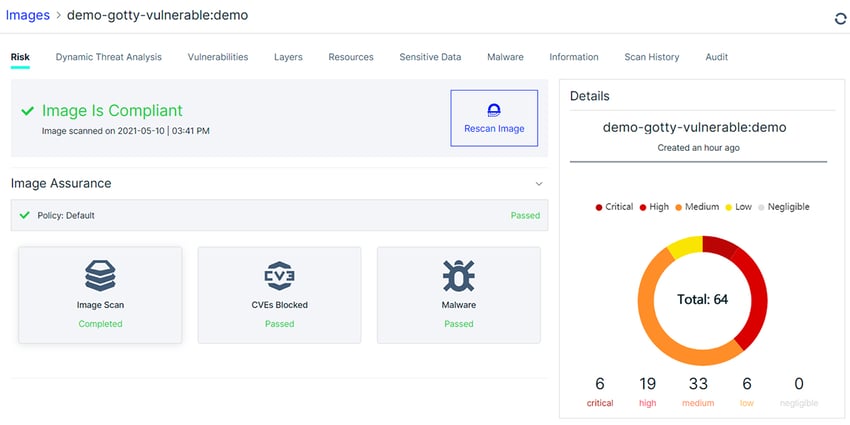 Support for specific enterprise needs
Business-critical applications often require advanced, customizable checks and commercial flexibility. Aqua Enterprise includes options for commercial use and custom compliance checks. It's a good choice in case your security team needs to perform its own advanced checks to keep the build pipeline moving quickly, or you need to show clear accountability and control to compliance regulations and auditors.
See here the custom check available as an assurance policy: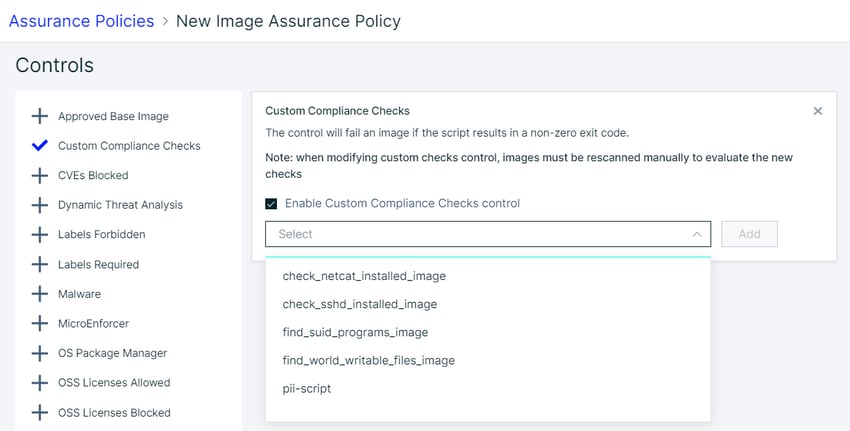 Continuous protection into runtime
The vulnerability scanning in Aqua Enterprise forms part of a holistic, integrated, cloud native security solution, providing a critical input to runtime security.
If you're looking to secure cloud native, business-critical applications, Aqua Enterprise can not only fail a CI job based on vulnerability data, but it can also follow up with a runtime policy based on vulnerability scanning and multiple other inputs from the image profiling accomplished in the build.
Conclusion
To get an in-depth comparison of Aqua Enterprise vs. Aqua Trivy, download our checklist. And if you think Aqua Enterprise is right for your organization, check out our pricing page, schedule a live demo, or get in touch with a sales representative.

Story Tweedie-Yates
Story is the VP of Product Marketing at Aqua Security, where she is passionate about helping to define the future of cloud native security. In her time off, you will find her scooting her twins around Montreal's parks or exploring underwater treasures with a scuba mask alongside her husband.