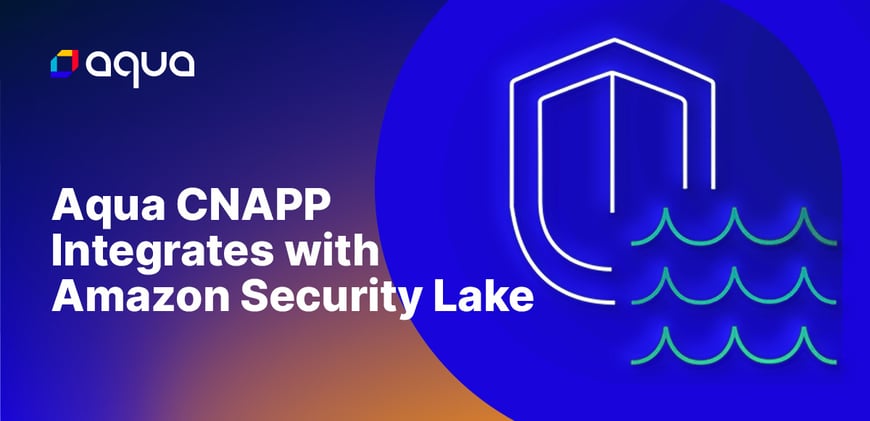 Aqua CNAPP Integrates with Amazon Security Lake
Enabling Customers with Visibility and Remediation at Scale

As the pioneer in cloud native security, Aqua has been at the forefront of CNAPP innovation. Today, we are pleased to announce our integration with Amazon Security Lake.

This integration allows customers the insights needed to determine their risk posture across all their AWS cloud workloads. Designed to provide more accurate and faster access to their security data, and the insights gained from this integration will provide a reduction in the time security teams spend detecting and resolving issues, allowing for faster mitigation.
Unleashing The Value of Accurate, Contextual Findings – at Scale
Combining Aqua Security's capabilities to detect vulnerabilities with Amazon Security Lake's expansive data management enables teams to capture and analyze all vulnerabilities detected holistically. This not only covers containerized applications but also extends to the hosts on which those containers run.
Using the Aqua Trivy vulnerability engine, Aqua's market leading and most widely used and accurate open-source scanner. The Aqua integration provides teams with additional context and prioritization capabilities.
Allowing AWS users to now benefit from:
Comprehensive Visibility: Illuminate every corner of your cloud native environment. Uncover vulnerabilities across your application lifecycle in container images, running containers, and hosts.

Efficient Remediation: Shorten time to fix by eliminating false positives, and prioritizing vulnerabilities by contextual risk across your entire cloud environment.

Scalable Security: Benefit from the seamless scalability of Amazon Security Lake to grow your security operation elastically as needed.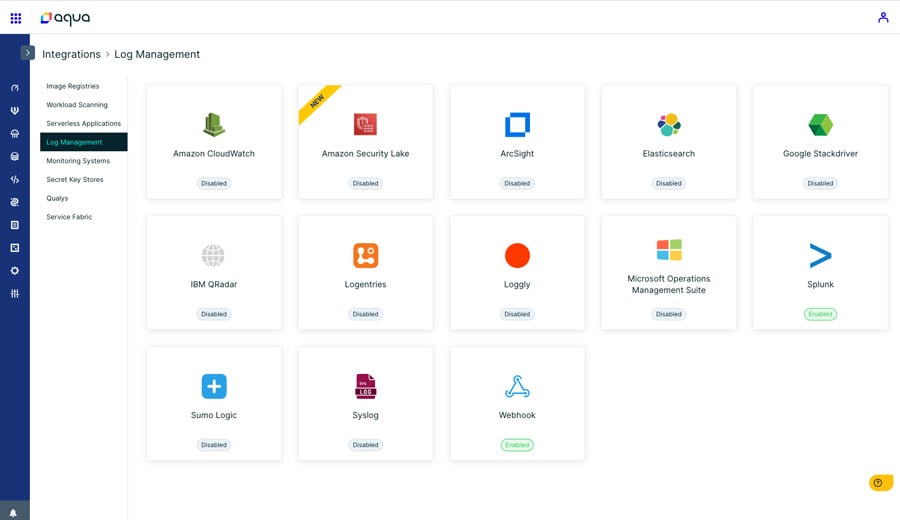 Why Amazon Security Lake?
Amazon Security Lake is designed to provide organizations with a means to centralize, analyze, and monitor their security-related data. It is addressing the growing challenges associated with managing and securing large volumes of security data in a scalable and efficient manner.
Organizations can aggregate data from various sources, such as Amazon CloudTrail, Amazon Route 53, AWS SecurityHub, and Amazon VPC Flow Logs, into a centralized data lake. This consolidation enables a holistic view of security events and activities across the AWS infrastructure.
Then through leveraging AWS Security Lake and the integration with Aqua, organizations can gain valuable insights into their security posture, identify potential threats, and proactively respond to security incidents. Offering a scalable and cost-effective approach to managing security data, allowing organizations to focus on improving their security posture and protecting their assets in the cloud. This integration of Aqua Security and Amazon Security Lake provides a powerful, holistic solution to manage and mitigate security vulnerabilities.
As Aqua's CNAPP is the only platform that can deliver a level of cloud native security threat data, including agent-based real-time runtime events, CSPM risk data and threats to the software supply chain. Integrating this data from Aqua's CNAPP into AWS Security Lake will make it quicker and easier for security teams to understand risk levels and prioritize mitigation efforts.
The integration is now available to Aqua platform users as an out-of-the-box integration.
Learn more about Aqua's AWS Partnership here.

Rani Osnat
Rani is the SVP of Strategy at Aqua. Rani has worked in enterprise software companies more than 25 years, spanning project management, product management and marketing, including a decade as VP of marketing for innovative startups in the cyber-security and cloud arenas. Previously Rani was also a management consultant in the London office of Booz & Co. He holds an MBA from INSEAD in Fontainebleau, France. Rani is an avid wine geek, and a slightly less avid painter and electronic music composer.