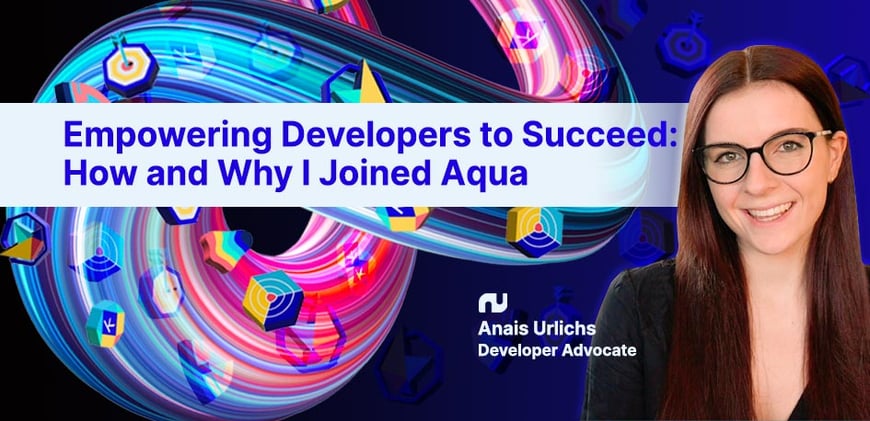 Empowering Developers to Succeed: How and Why I Joined Aqua
For the past few years, I've been dedicating my career to helping developers improve their skills and discover useful tools and communities. As the industry is moving from customer-driven to community-focused development, Aqua is embracing this shift. I'm excited to take on the role of Aqua's developer advocate to foster its fantastic open source community and help more developers get off to a successful start in cloud native security.
Cruising the cloud native space
I started my career in the blockchain space, building developer communities for open source start-ups. I've always admired open source, and it was great to work on it full time. However, the blockchain industry was quite new back in 2017, and not many people were looking to go beyond building weekend projects and experimenting with the technology.
In 2020, a recruiter reached out to me with an exciting opportunity at a DevOps start-up called Codefresh. I took my chances and applied. A few weeks later, I joined the company as its developer advocate.
At the same time, I launched my YouTube channel around a challenge called 100 Days of Kubernetes.
Learning in public: #100DaysOfKubernetes
My goal with 100 Days of Kubernetes was to learn something new related to Kubernetes each day and share it publicly. This allowed others in the community to follow my journey and get started with Kubernetes themselves. Each day for 100 days, I posted an educational video that dived into different aspects of Kubernetes or related cloud native technologies, along with a written tutorial.
The challenge was a huge success, with lots of people starting their own 100 Days of Kubernetes! Through creating this content, I connected with many people in the cloud native community. Shortly thereafter, I became a Cloud Native Computing Foundation (CNCF) ambassador.
How I got to join Aqua
My journey with Aqua began about a year ago. At one of the CNCF ambassador meetings, I met Itay Shakury, who is now the director of open source at Aqua. We connected over a coffee chat and occasionally had mentoring calls. Having known me for a while, he's been watching my work and growth in the space, and he reached out to me when a developer advocate role opened on his team. I feel so lucky that it all worked out and that I've officially joined Aqua and one of the leading open source teams in the industry!
…and why
Open source is all about people — every single person who passionately devotes their time and energy to contributing and creating useful tools for everyone. In this sense, building strong open source communities and educating developers feels profoundly important and meaningful.
On a personal level, open source is an opportunity to be a part of something bigger, to push forward the projects and technologies I care about. Incredible things are born when talented individuals from across the globe come together to work on a common problem.
"Incredible things are born when talented individuals from across the globe come together to work on a common problem."

Share on Twitter
Aqua realized this early on and is driving innovation in the DevSecOps space while empowering developer communities. I love the fact that open source isn't an isolated entity at Aqua but rather the compass for everything the company does. Aqua's key open source projects are powering commercial offerings and form the foundation for product innovation.
My new role at Aqua is, as cheesy as this sounds, a dream come true. Building relationships with developers to help them succeed while shaping Aqua's growing open source community in one of today's hottest tech markets is a one-of-a-kind opportunity.
What I'll be doing at Aqua
At Aqua, I see my mission in bringing cloud native security to more developers around the world. Cloud native security is a complex topic, with plenty of concepts to wrap your head around when you're just getting started. My goal is to make this path easier and more fun for everyone.
"Cloud native security is a complex topic, with plenty of concepts to wrap your head around when you're just getting started."

Share on Twitter
At its core, developer advocacy is about making tools more accessible through enhancing developer experience and creating engaging educational materials. How does this look like in real life? Here's a glimpse into my day-to-day job at Aqua:
✨What I do as 🥑Developer Advocate✨
* UX research
* Technical Documentation
* Example Projects
* Marketing for project related content
* Content (video/blog) and editing
* Event planning
* Public Speaking
* Planning community engagement strategies
* Developing technical skills

— Anaïs Urlichs 🐢 (@urlichsanais) February 11, 2022
In a nutshell, I spend my time interacting with Aqua's open source community to help developers be successful and productive with our tools. While doing so, I get to learn new skills and hacks, which I plan to share on my YouTube channel, bringing value to the broader cloud native community.
On this journey, I'm excited to work with a variety of robust open source projects. Aqua has one of the largest open source portfolios in the industry, ranging from the stellar Trivy scanner, which can benefit every developer, to the cutting-edge and powerful Tracee, an eBPF-based runtime security tool.
Additionally, I want to make sure that all the hard work of our amazing open source developers, users, and contributors to Aqua's open source projects is seen and celebrated.
Come join us
If you're not yet familiar with Aqua's open source tools, go to our GitHub page and check them out. I can't wait to see how you'll use them in your projects and what we'll accomplish together! Whether you're an engineer, technical writer, or content creator, there are plenty of ways to get involved.

Follow me on social channels:


Join Aqua's community on Slack and feel free to reach out!


Anais Urlichs
Anaïs is a Developer Advocate at Aqua Security, where she contributes to Aqua's cloud native open source projects. When she is not advocating DevOps best practices, she runs her own YouTube Channel centered around cloud native technologies. Before joining Aqua, Anais worked as SRE at Civo, a cloud native service provider, where she helped advance the infrastructure for hundreds of tenant clusters. As CNCF ambassador, her passion lies in making tools and platforms more accessible to developers and community members.