Aqua's Series A Funding: A Tale of Two Babies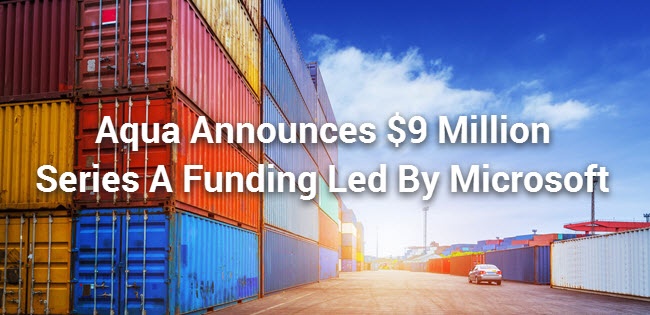 Today we announced that we closed $9 million Series A funding round led by Microsoft Ventures. Aqua was founded by Amir, myself and a team of great engineers eleven months ago (has it ONLY been eleven months?), so in that sense it is our 'baby'. This round of funding is definitely one of the high points of the journey, and I'm very excited with what lies ahead. But I actually wanted to share a more personal view of the last few months, leading the funding effort while expecting a new baby (a real one) at home.
Work life and personal life are hard enough to keep separate in the best of circumstances, but in a startup, where we spend long hours with a close-knit group of people, it's virtually impossible. If life at Aqua has been a roller coaster, couple that with the excitement, angst and emotions of a pregnancy, and you have me trying to ride two parallel roller coasters at once. They're going in the same direction, but their ups and downs are not necessarily synchronized. It's been a challenge.
So back in February when my wife told me that our baby is due in late September, I was elated and excited beyond belief. But the second thought that went through my head was "Now I should be more attentive to my work-life balance". I always made sure to keep good chunks of time for my family and I wanted to make sure that with all the excitement at work, I will not miss the joy and thrill of bringing new life to this world, becoming a father again.
When we realized things are going very well for us at Aqua, we also planned to go out for round of funding at the end of the year. We planned the investment strategy and the team that will work with me in the process.
That never happened. First of all, everything in our space is moving a lot quicker than we had planned. We've seen rapid adoption of containers in large enterprises, and with it a real need to get a handle on security and compliance. I never thought that at this time, with Aqua less than one year old with our product in GA for only four months, we would have such an impressive list of enterprise customers in production, and more than 25 employees.
We were happy when a few months ago certain investors started showing interest. When it became clear that Microsoft Ventures are interested in investing, we all paid attention. After evaluating different options, we all felt that Microsoft is the right partner for us as we share the same vision for this market. We had long conversations with different members of the Microsoft team and felt we will be partnering with a friendly giant, a major player that is making strides in the world of virtual containers.
As I dived, head first, into closing the deal, I had to use all my willpower to keep some kind of separation between my personal life and work. The intensity of leading the legal and commercial discussions took over my entire mental capacity and I often found myself meditating in front of our door at home trying to slow down my thoughts and make room for my loved ones. I had to use long breathing exercise to let go of the nervousness and make space for the emotional journey my wife and I were sharing expecting a new baby.
I was not always successful. As much as I tried, I had my lesser moments. But as my wife encouraged me, my efforts were noticeable and luckily, in some cases successful.
We just closed the deal with Microsoft. We are very excited to be working with the Microsoft Ventures team to tackle our next phase of growth. Naturally, we will be doing many things around Microsoft initiatives. But on the other hand, we will of course continue to support diverse cloud and container environments, working with the Docker community, the Kubernetes community, and others.
Oh wait - you must be wondering what happened with the baby, the real one. Well, my wife is a little overdue and we have a bag ready to go to the hospital any moment. Our new baby was considerate enough to let me close the round and have my full attention as he brings new light to our lives. And this is only the beginning of the journey – for Aqua and for my family. Work-life balance will be a bigger challenge than ever in the next few months, but since on both fronts amazing things are happening, I can only count my blessings and enjoy the ride.